Ready to upgrade your home workouts? Why not give indoor VR cycling a spin?
Indoor cycling has many benefits:
It improves Cardiovascular health
Study has shown that indoor cycling is even better than bicycling for improving physical fitness!
It is a low-impact way to get a high-intensity cardio workout

Ideal for fitness beginners and enthusiasts alike

It is is a total-body workout and works all of the major muscle groups

Workouts can be as intense as you want

Provides you with feel-good brain chemicals called endorphins
But when you add VR to it, it gets to a whole other level. If you happen to own an Oculus Quest headset (or some other ones), listen up – 
VR has the lower to minimize pain in physical exercise! University of Kent study proved that exercising in VR lessens the perceived pain intensity by an incredible 10%. Moreover, University of Georgia researchers have found that high-intensity cycling is 12 – 13%  less painful when combined with virtual reality. 
How? You're completely immersed in VR instead of counting the reps you have left. Amazing virtual worlds keep your attention, and the game-like elements keep you motivated and coming back for more. 
With that in mind, we developed HOLOFIT VR Fitness.
HOLOFIT completely transforms your indoor cycling workouts into a fun, social and motivating activity. 
Best of all, HOLOFIT works on any indoor bike with the addition of a cadence sensor. Most cadence sensors are compatible, but we recommend that you check the full list here.
Once you`re all set, it's time to exercise! Depending on your fitness level and goals, we made 5 cycling workout suggestions:
1. VR Cycling for fun
If you are not aiming to improve your fitness level and simply enjoy cycling as a healthy habit, this is the suggestion for you!
Many Holofitters enjoy the meditative experience HOLOFIT can offer and would like to have less data when working out. They simply want to zone out and enjoy the scenery. 
This will be possible with Zen mode, in which you will be able to switch off everything but the beautiful HOLOFIT worlds.
With Zen mode you'll enjoy HoloWorlds at your own pace, in your own time, without any distractions.
2. Getting into fitness with the help of VR
Our suggestion is to combine these 2 HOLOFIT workout modes: Explore and Race. This way,  you'll be able to keep your motivation up, but not overdo it. 
You should do at least two HOLOFIT workouts per week, and aim for three. Choose the days up front, and add them to your calendar (use your phone to set a reminder) for an extra motivational push. For extra motivation, print out this schedule and simply stick to it.
The choice of HOLOFIT environment is absolutely up to you, we advise that you mix it up and try a different environment for each workout. 
HOLOFIT offers a variety of immersive HoloWorlds:
Real cities

like Paris

Real sport events

like the Grand Sablon desert, based on the longest foot race on Earth – a six-day, 251 km (156 mi) ultramarathon through Sahara desert

Imaginary worlds

like Troglodyte, the fan-favorite HoloWorld full of magical creatures

Nature environments

like the serene Tropical

Environments like Babylon that transport you to

ancient cities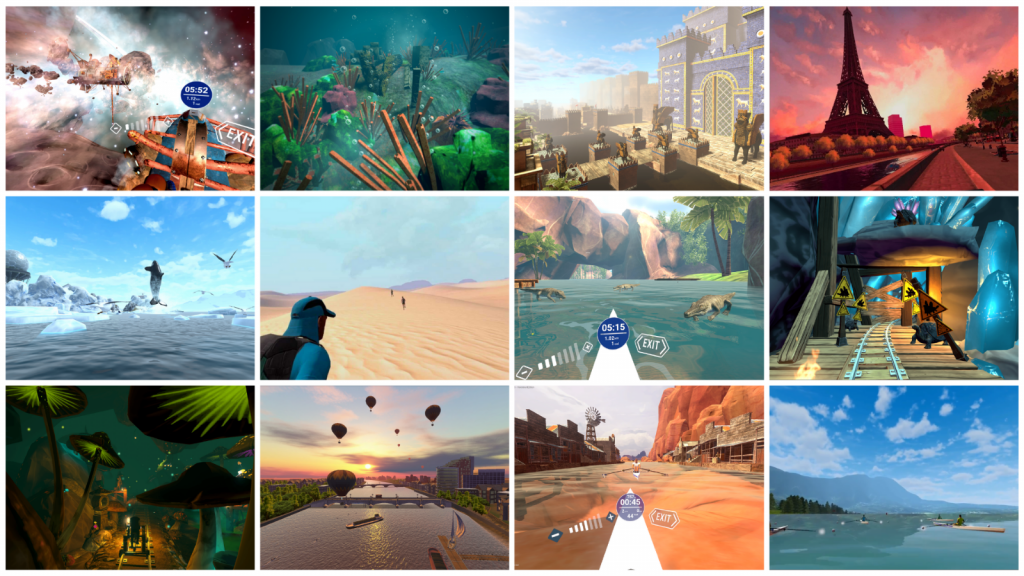 Never stop the workout abruptly, unless you feel unwell, and always take time to bring your heart rate down after a workout. This is especially important when doing high-paced workouts: keep going for 2-5 minutes at a slow pace until you feel your body relaxing.
Please keep a bottle of water and a small towel closely: it is very important to keep hydrated!
3. Cardio Training Programs Including HIIT for VR Cycling
Customize your workout according to your needs. Fat burn, cardio, interval or HIIT on the right level for you.
Fat burn, interval and cardio training range from very easy to very heavy.
High-intensity interval training or HIIT, is one of the most famous fitness programs nowadays. How it works is that it alternates between  shorter periods of high intensity with periods of rest, which results in the release of human growth hormone. You get to choose the level of difficulty and then do 15-minutes of this shredding workout. You can lose up to 400 calories in one workout, depending on the machine you use.
Which one do you think will be your favorite workout on HOLOFIT?
Listen to your body! If any of these workouts feel too much for you, slow down and switch to an easier level!
 4. Beat Your Personal Records
If you are into more competitive cycling, where you push yourself to be better each time – try Time Attack!
Once you set your record distance in a specific time frame (5, 10, 15, 20, 30 minutes), you get to improve your individual score by racing the ghost of your previous best performance. This is the perfect workout mode to use to monitor your personal fitness progress. 
5. Compete with Other HOLOFIT Cyclists
If you don't like working out on your own and enjoy the social aspect of exercising, try the Multiplayer mode! Get everyone working together by engaging in small group training or competitions.
To get to know other Holofitters, arrange workouts and discuss anything fitness related – join our online Community! It's the place to share your experience, read about other cyclists' experiences and also serves as a fantastic accountability hub. 
P.S. We have an ongoing Spring Challenge which you can check out in the group.
The challenge ends on May 14th 2021. No fixed dates for each specific workout, the goal is to finish all 12 of them within these 30 days. So if you haven't already, there`s plenty of time to join in!
Are you ready to try HOLOFIT?
If you have everything you need, there is no time like today to try HOLOFIT and start your VR cycling journey.