How to connect my cadence sensor or fitness machine to Holofit?
Make sure that:
your fitness machine has FTMS Bluetooth (FiTness Machine Service protocol). Otherwise, the connection will not be established;
you pedal/row for 10-15 seconds before trying to connect the sensor or fitness machine to Holofit;
the Location permission is be enabled (Oculus Lobby > Apps > hover over Holofit until you see three dots > Permissions > enable Location);
your dual-mode sensor (cadence + speed sensor) is using the cadence mode, not the speed mode.
In case of Magene S3+ sensors, the red light is for cadence mode, the green light is for speed mode. To change the mode, simply, take out and re-insert the battery.
Go to:
Holofit Settings (cogwheel):

Holofit Setup:

Fitness machine:

Find your sensor or fitness machine and connect to it:

Note: if you are connecting to a sensor, you will have to select your fitness machine: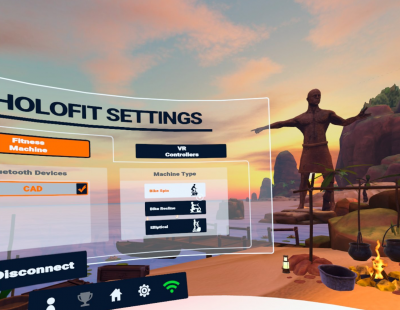 For users who are having a non-Bluetooth rower, the steps are a little bit different. Please, click here to find out
If you have a bike or elliptical that does not have FTMS Bluetooth, you will need to buy a cadence sensor. Click here to see what cadence sensors we've tested so far