Achieving your fitness goals just got easier and more exhilarating with HOLOFIT's Combo Workouts. Whether you aim to improve your health, enhance your athletic performance, or shed those extra pounds, the no-equipment Combo Workouts offer an immersive and enjoyable path to success. 
Combo Workouts merge Freestyle sports activities with fun bodyweight exercises, offering a dynamic and challenging full-body workout within the captivating virtual environments known as HOLOworlds!
We'll show you how to harness the power of these workouts to personalize and program the exercises according to your fitness goals.
Tailoring Difficulty Levels
Whether you're a beginner or an advanced athlete, you can customize the intensity of your workouts. The flexibility to choose from very easy to very hard levels allows you to progress at your own pace and set achievable fitness goals.
Try Combo Workouts on different difficulty levels until you identify the one that's just challenging enough. Your workouts shouldn't be too easy or too hard, it's all about progression.
Moreover, try to exercise at least three times per week.
With time, workouts will become easier. That's when you should go up a difficulty level. At first, ⅓ weekly workouts should be tougher. After a few weeks, do ⅔. And then slowly progress onto higher difficulty levels.
Diverse Combo Workout Exercises
Combo Workouts feature a diverse range of exercises designed to target different muscle groups and keep your workouts engaging. Here are some of the exercises you can expect to encounter in this workout mode:
Boxing: Unleash your inner champion with our immersive VR boxing workout! Get ready to sweat, punch, and conquer with every jab.
Your personal trainer will be your sparring partner in these exercises, dictating the tempo and the punches you need to throw. Match the boxing glove color to the target! 
Karate: Harness your strength and precision with every move, leaving no wooden boards unbroken. Pay attention to their color!
Cube picking: Feel the burn in the notorious wide-squat stance. Can you collect all the cubes and drop them in the floating box? And again, keep track of the cube colors! 
Log Cutting: Timber! Move the saw back and forth to cut a log.
Ball Throwing: Immerse yourself in our VR ball-throwing exercise. Aim, throw, and hit the targets – did we mention the targets are moving?
Fruit Slicing: Channel your inner knight and show off your sword skills. Slice the fruit until you have enough of it for a healthy salad.
Squats: Sculpt your leg muscles, one squat at a time. Make sure to keep your back straight!
Pro tip: Hold your position on the first squat to set up your squat depth. This will then be the depth necessary for a squat to register as completed.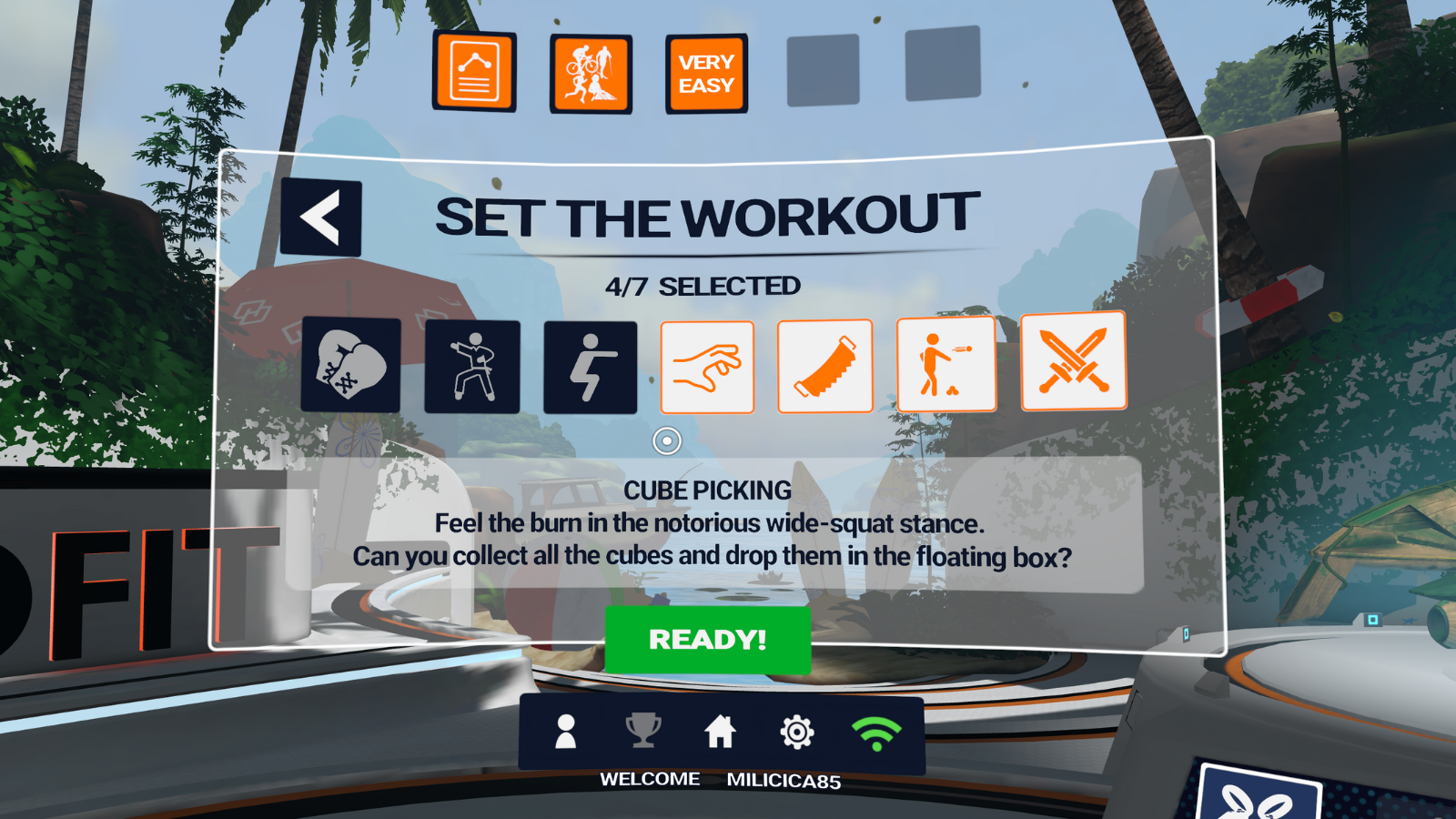 Aligning Combo Workouts with Fitness Goals
Now, let's delve into how you can curate a combination of HOLOFIT's Combo Workouts to align with your three primary fitness goals:
1. Improve Your Health:
Start with an

easy

or

medium

difficulty level to focus on building stamina and endurance.

Combine exercises such as

boxing

,

karate

, and

squats

to improve cardiovascular health, strength, and flexibility.

Incorporate

fruit slicing

for agility and balance training.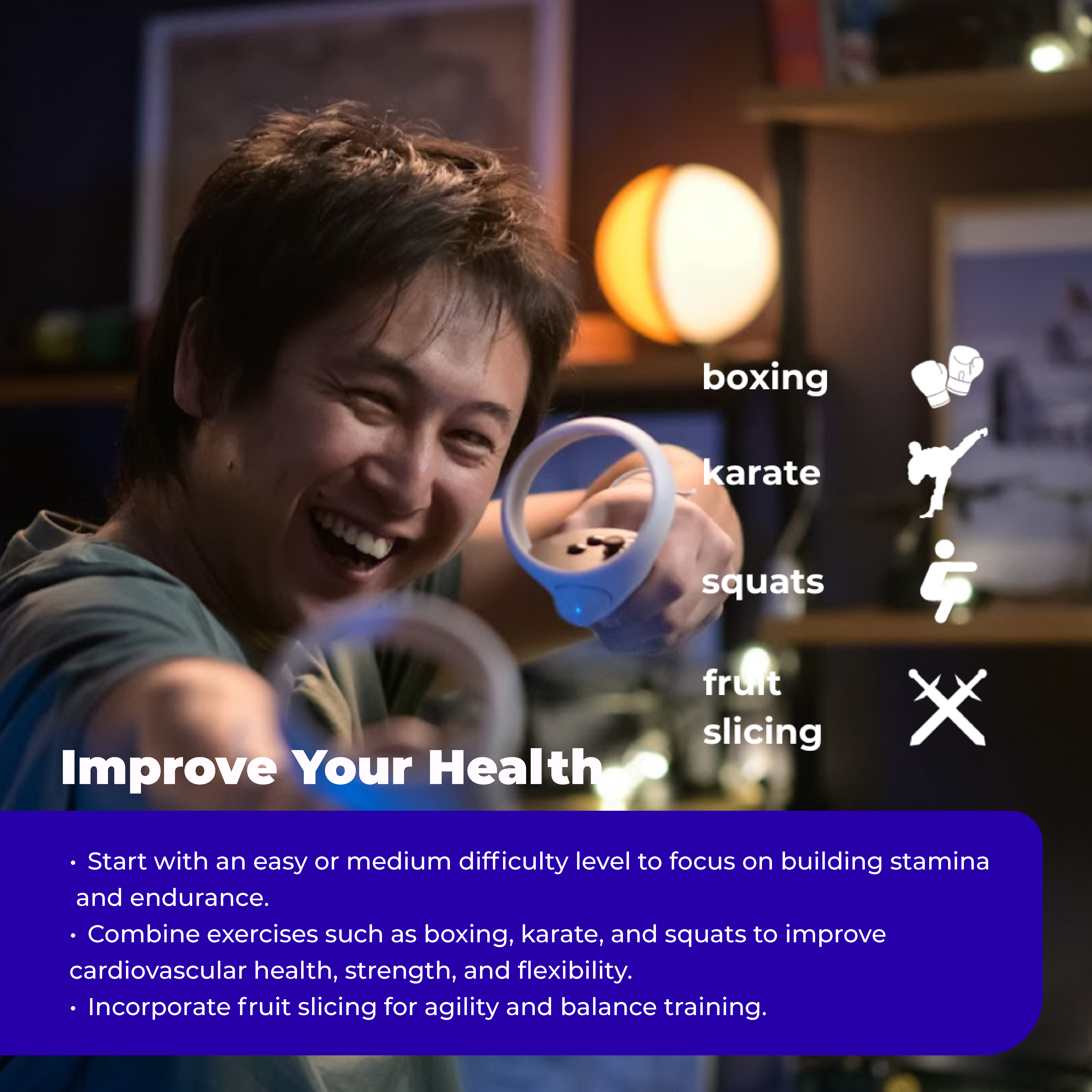 2. Enhance Athletic Performance:
Opt for a

medium

to

hard

difficulty level to challenge your physical abilities.

Pick

karate

to enhance precision and upper body strength.

Incorporate

cube picking

to engage your lower body and core muscles.

Incorporate

log cutting

to build upper body strength.

The cherry on top –

ball throwing

to hone your coordination.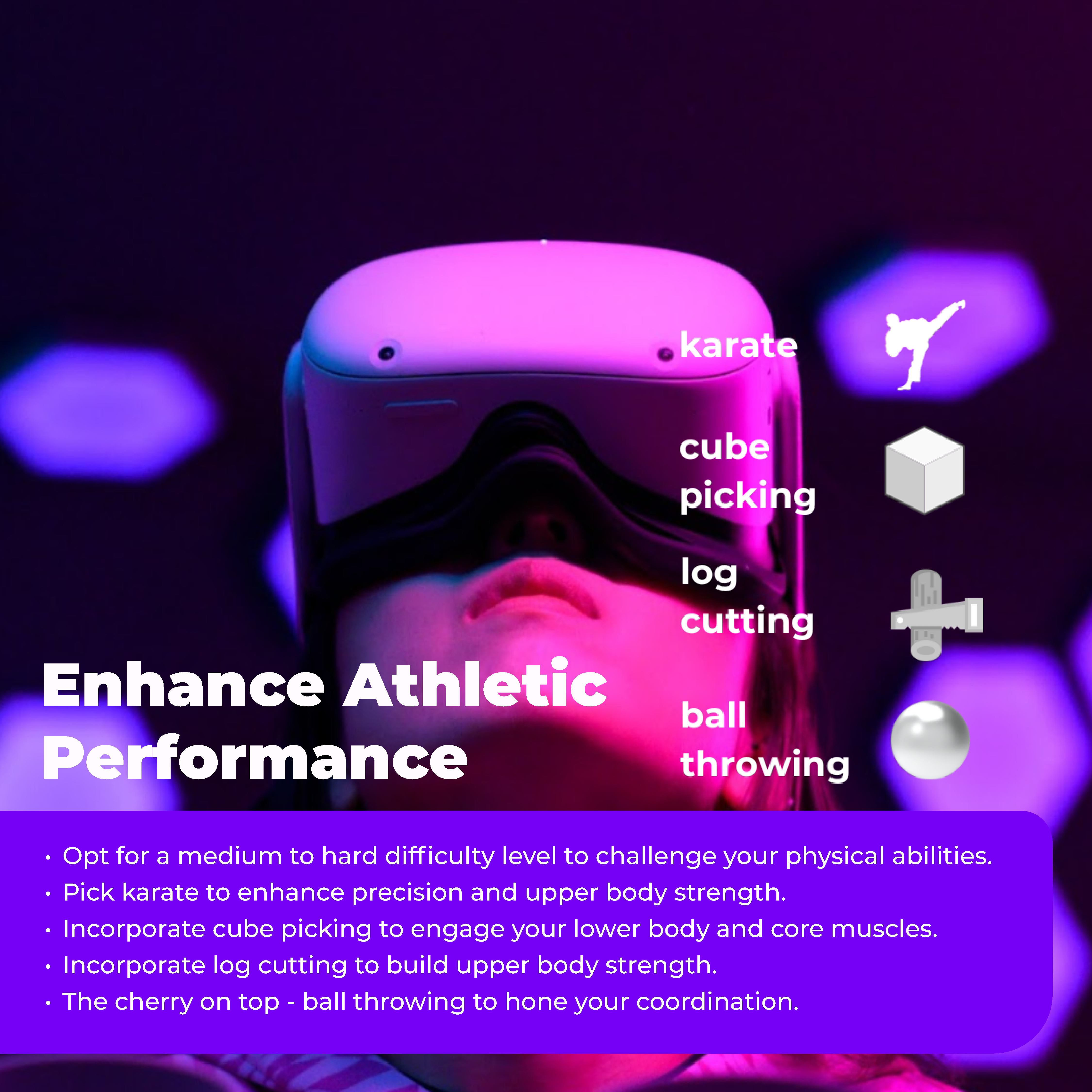 3. Lose Weight:
Choose a

medium

to

very hard

difficulty level for an intense calorie-burning session.

Include

boxing

to elevate your heart rate and burn calories efficiently.

Incorporate

cube picking

for lower body engagement and toning.

Don't forget

squats

to sculpt your leg muscles and boost your metabolism.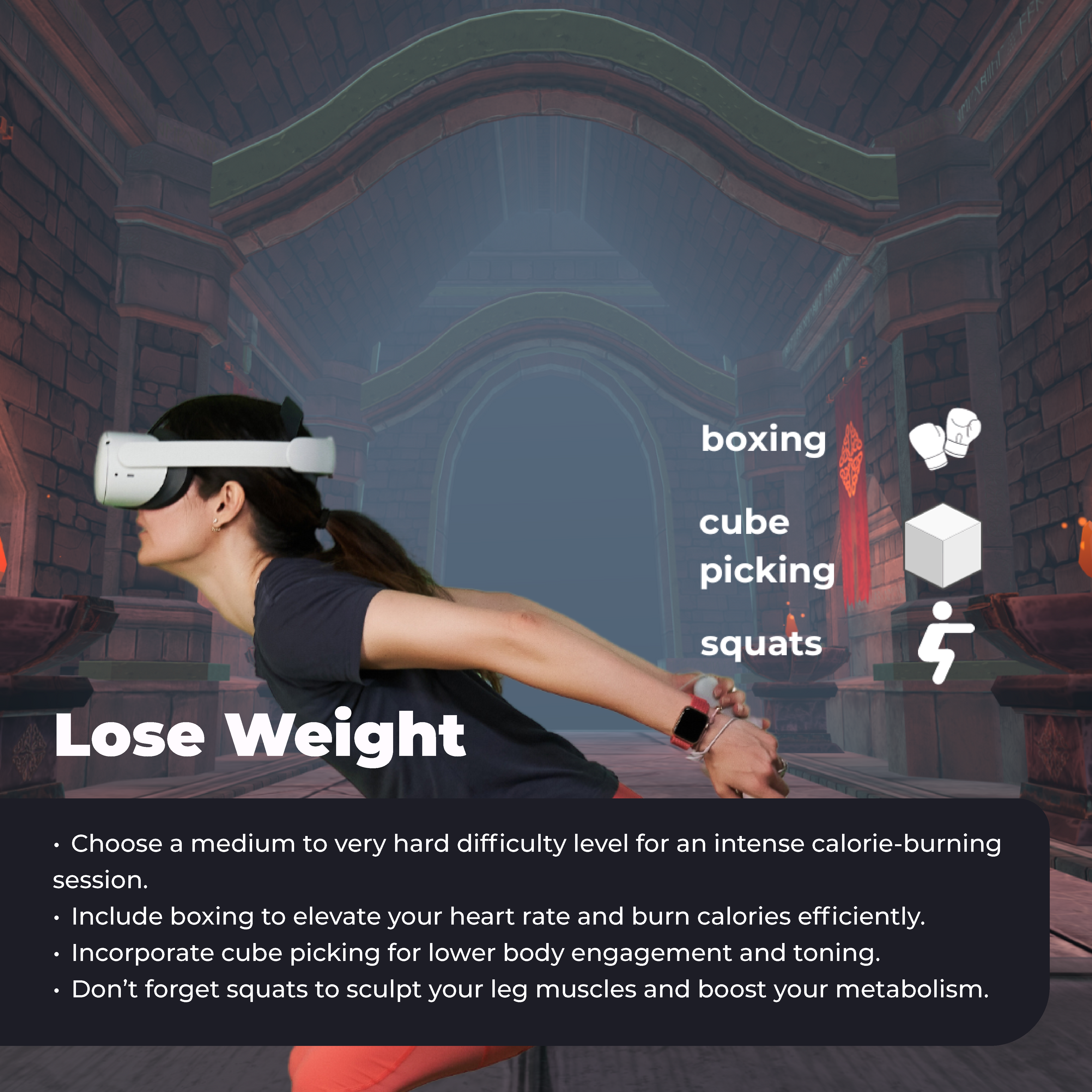 A lighter workout: Combo Workouts combined with Freestyle sports
If you're looking for a lighter routine, use our Freestyle Sports as your main activity, and add in one weekly Combo Workout to switch it up. 
Our workout suggestion:
Once per week, incorporate Combo Workouts into your routine.

Use the appropriate difficulty settings to ensure you don't overdo yourself, and listen to your body. Not too hard, not too easy: that should be what you strive for. 

Doing these once per week will help you in the long run, and speed up your fitness progress.
Fitness machines + Combo Workouts for full-body fitness
If you're using HOLOFIT on a fitness machine – rower, bike, or elliptical – 
Adding a weekly Combo Workout to your routine can help activate the rest of your body, especially if the machine you're using is only engaging one part of your body (eg. a bicycle doesn't engage your upper body). 
Personalized HOLOFIT workouts
If you are looking for a more concrete, tailor-made workout plan, look no further than our online monthly plan.
To get your monthly training plan, you only need to fill out our short quiz. 
What are you waiting for? Get your personalized training program and improve your fitness experience today!
P.S. Some whacky things coming to Combo really soon!