In the ever-evolving landscape of the fitness industry, staying ahead of the curve is paramount. To thrive, businesses have to get new members and retain existing ones, and offering unique, engaging fitness experiences is one of the best strategies to achieve this. 
Enter HOLOFIT, the revolutionary virtual reality (VR) fitness app that has been taking the industry by storm. In this blog post, we'll introduce you to HOLOFIT and shed light on how it can be a game-changer for your business.
Unveiling HOLOFIT: Where Fitness Meets Fun
Do you want to increase member retention and create a new revenue stream in the process? Are you looking for a unique fitness solution that is designed to make fitness fun and motivating? 
Look no further—HOLOFIT is here to transform your fitness business.
HOLOFIT immerses people in amazing virtual worlds, gives them fun tasks to complete, and helps them forget about the pain and the boredom of fitness. But that's just the tip of the iceberg.
Benefits of VR Fitness with HOLOFIT
Increased Member Retention
One of the most challenging aspects of running a fitness business is retaining members. HOLOFIT boasts an impressive track record—70% of its users become and stay regulars beyond the 6-month period. The secret lies in the immersive and engaging experience it offers, keeping members motivated and excited about their fitness journey.
New Revenue Streams
Diversify your revenue streams with HOLOFIT. VR fitness has been scientifically proven to minimize perceived pain, making users more likely to meet their fitness goals. By incorporating HOLOFIT into your offerings, you not only enhance member satisfaction but also create a new income source for your business.
Suitable for All Generations
Fitness should be inclusive, catering to all ages and abilities. HOLOFIT aligns with Meta Quest's policy of inclusivity, making it suitable for all generations. 
Whether your members are tech-savvy millennials or seniors looking for a novel fitness experience, HOLOFIT has something to offer everyone.
Accessible Standing or Sitting Solution
Flexibility is key in fitness. With HOLOFIT, users can enjoy workouts whether they prefer standing up or sitting down. The app supports a variety of sports, ensuring that everyone can participate and benefit from this innovative fitness solution.
What HOLOFIT has to offer
100+ different workout options
15+ virtual worlds

– Babylon, Paris, Tropical, Venice, Antarctica, Saturn, and more.
6 workout modes

– Journey, Zen, Multiplayer, Race, CardioGoals, Performance.
Multisport

– Rowing, cycling, running on and off fitness machines, skiing, boxing, and more.

Group training

– Up to 5 users can work out together in real time.
Testimonials: Real Success Stories
Still not convinced? Let's hear from some businesses that have already embraced HOLOFIT and witnessed remarkable results:
Centrum Paraple – Public Service Company, Prague
Centrum Paraple is a public service company with the aim to support and help wheelchair users with spinal cord injuries and their families as they navigate through these challenging circumstances.
Their Movement Therapist was kind enough to share some of the benefits and key features HOLOFIT has brought them.
What HOLOFIT has to offer:
As soon as I tried HOLOFIT, I knew it was exactly what we needed!
Furthermore, HOLOFIT offers features that help wheelchair users enjoy the experience.
The key HOLOFIT features for us are:
A handbike trainer! Moreover, even running is possible for us in Holofit;

Allows us to test our strength and progress against other users;

Compatible with the Concept 2 rowing machine.

The gaze control option
From a therapeutic perspective, it has many benefits. It improves physical endurance, trains your stability, helps motivate you, can reduce neuropathic pain, stress, and anxiety, sometimes it improves muscle tension.
And I am sorry I almost forgot. It's fun!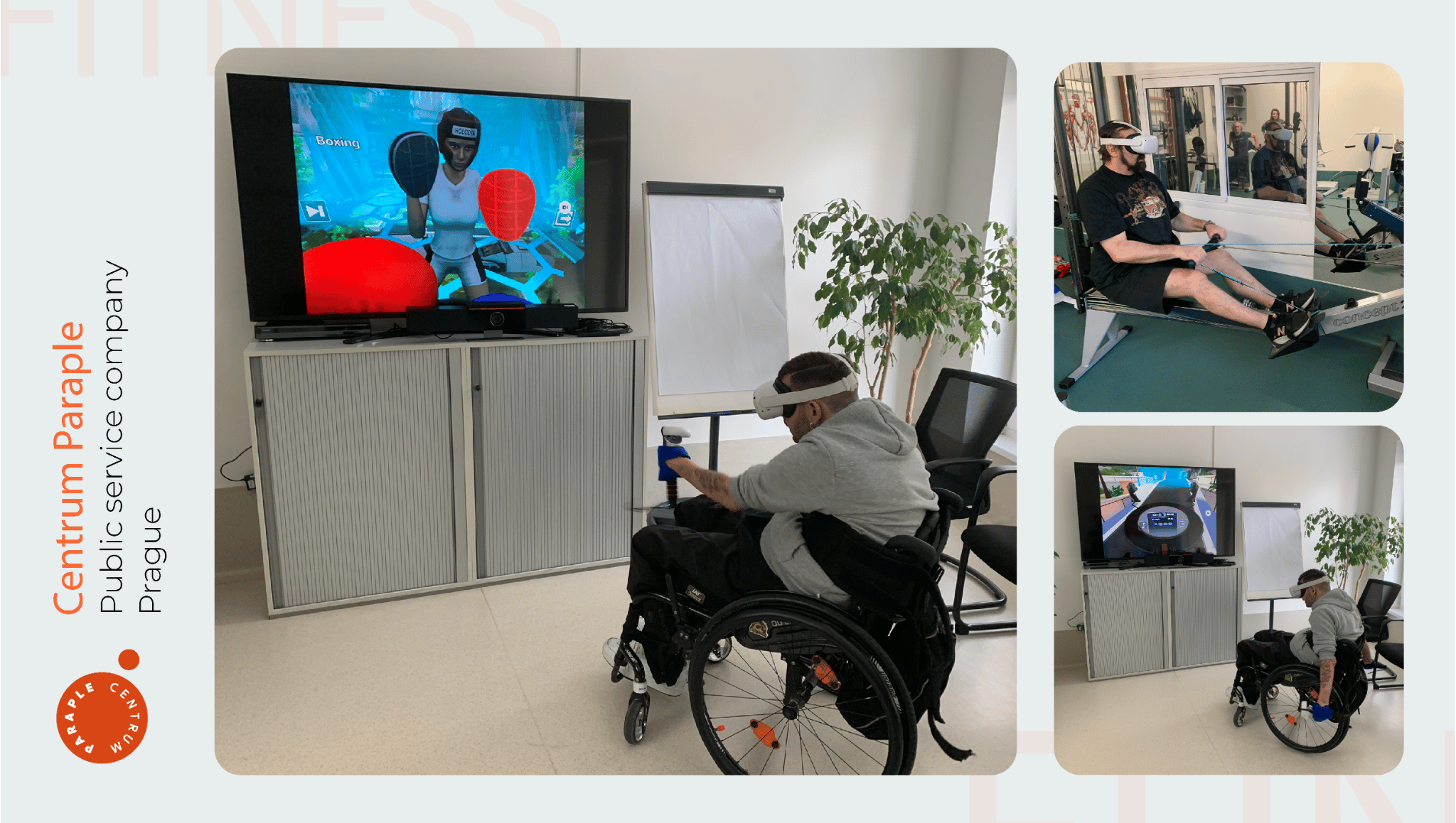 Rødovre Kommune – Public Service Company, Denmark
Rødovre Kommune is a municipality in Region Hovedstaden on the island of Zealand in eastern Denmark.
Rødovre Municipality Implements HOLOFIT in Their Welfare Technology Endeavor
We are conducting tests in diverse environments involving youths who exhibit a range of conditions, including autism. Additionally, we are evaluating the efficacy of the system within our rehabilitation unit – and with great success.
Here's how HOLOFIT is used at Rodovre Kommune: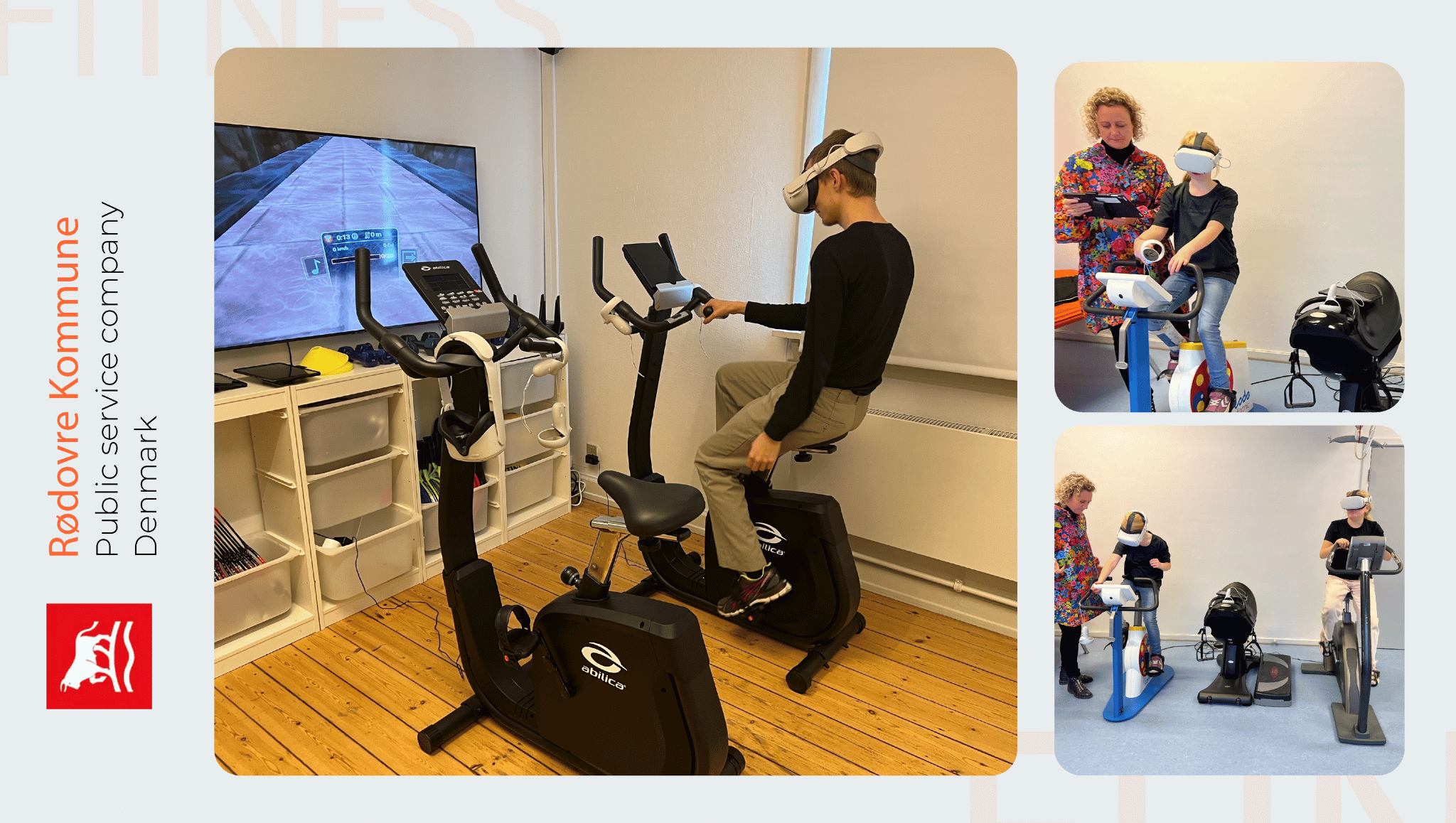 Elevate Your Fitness Business with HOLOFIT
In the competitive fitness industry, offering something unique and captivating is the key to success. Explore HOLOFIT today and witness the positive impact it can have on your fitness business.
To embark on your journey with HOLOFIT and discover how it can revolutionize your fitness business, feel free to reach out to our dedicated sales team at sales@holodia.com for any additional information or inquiries. 
We're here to help you take the first steps towards a brighter and more engaging future in the world of fitness.