It's time to travel the world and beyond, all from your indoor bike. The workouts may be virtual, but the results are real.
Optional 
Do I need a sensor for my bike?
Does your bike support the FTMS Bluetooth protocol? If yes, then you don't need the sensor. You can connect HOLOFIT directly to your bike. 
A couple of bike producers that we know work with HOLOFIT without the sensor – Body Bike, Star Trac, TechnoGym recumbent bike… 
In any other case, you will have to get the cadence sensor. 
The sensor comes in at around $30, and you can get it straight from Amazon. 
How does it work?
The cadence sensor monitors the pedal rotation. All you need to do is attach the sensor to one of the pedals on your bike. 
After connecting HOLOFIT to the sensor over Bluetooth, as soon as you start riding, your workout data is transferred into HOLOFIT. 
How does HOLOFIT make indoor cycling fun, social and motivating? 
Immersive content that distracts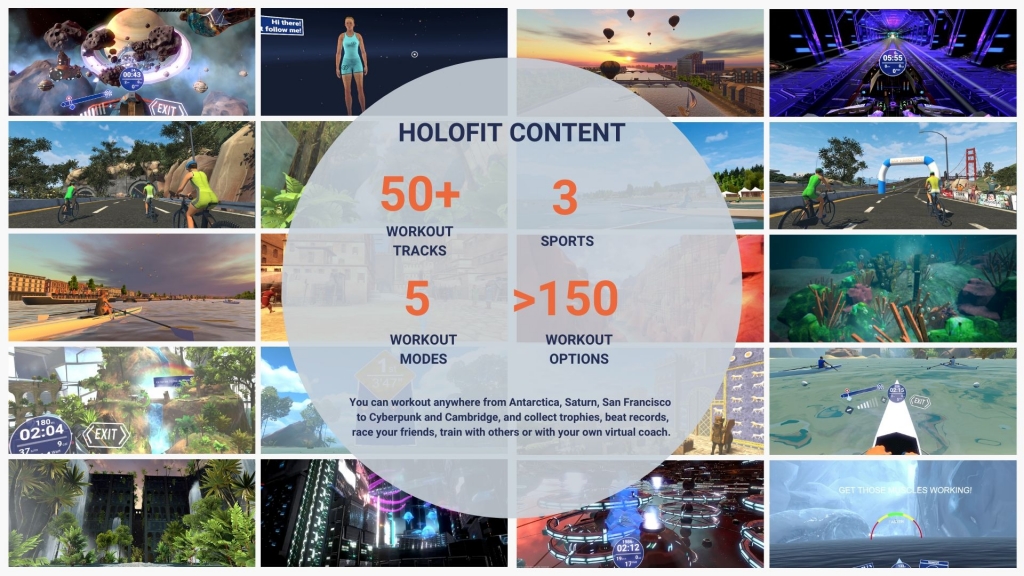 Talking about the benefits VR Fitness provides, minimizing pain during physical exercise is a major one. 
University of Kent study proved that exercising in VR lessens the perceived pain intensity by an incredible 10%. Moreover, University of Georgia researchers have found that high-intensity cycling is 12 – 13%  less painful when combined with virtual reality. 
Why? Because you're completely immersed in VR instead of counting the reps you have left. 
Our extensive portfolio of immersive content is something we're especially proud of. It's all original and we're constantly working on developing and releasing new HOLOWorlds. 
Currently, there are more than 50 workout tracks in 13 HOLOWORLDS.
You can work out anywhere from Antarctica, Saturn to Paris, or Babylon and completely transform your workout experience.  
These 50+ workout tracks adapt to any of the 3 sports – rowing, cycling or running, so no matter the machine you have, you'll be able to work out in these environments. In addition, on Oculus Quest, you can even use HOLOFIT off the fitness machine for full-body workouts.  
You can see some of the currently available environments in the video below: 

Workout modes that motivate
To take maximum advantage out of the competitive human nature, we've developed 5 different workout modes to stimulate and motivate users to always come back and go further. 
You can choose from Explore, Time attack, Cardio goals, and Multiplayer. 
In

Explore mode

, you get to experience the environments while trying to collect all the trophies. You can later check which you've collected in the HOLOFIT app on your phone. 

In

Time Attack

, you get to beat your or others' distance passed over a certain time after the initial session has been recorded. 

Cardio Goals

are a guided type of training for either cardio, fat burn or interval training – all customizable to an appropriate level of difficulty. 

In Race mode, you get to race A.I. racers developed to match your fitness level and be just challenging enough.
Multiplayer

allows small group training and competitions. 
Combine the 5 workout modes with 50+ workout tracks and you get more than 200 workout options – always keeping your workout fresh.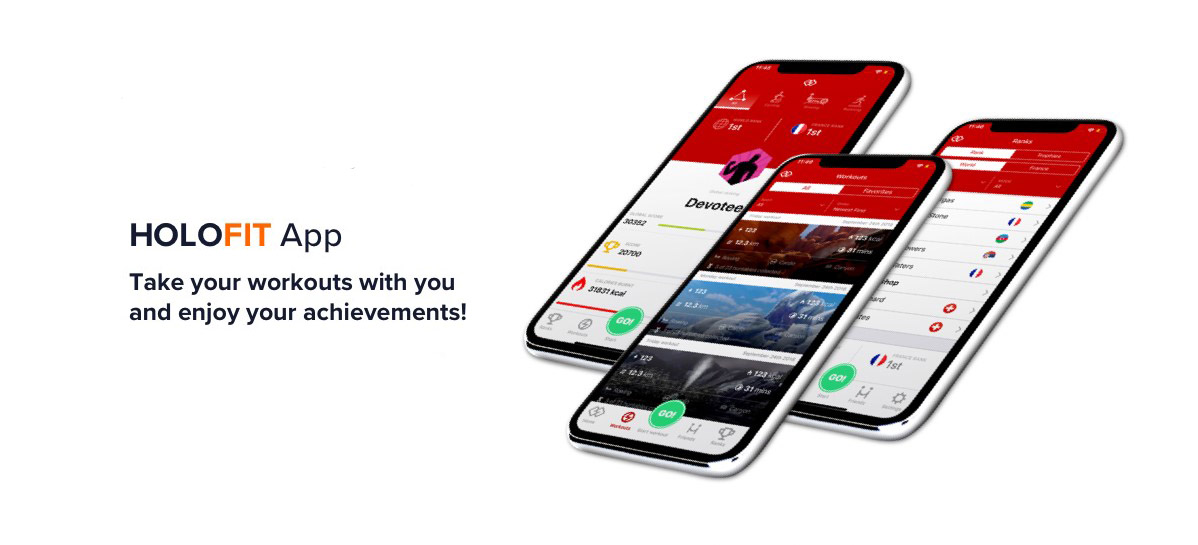 A companion app to never lose track of your achievements
HOLOFIT Companion app is free for download on both the Play and App store. 
All you need to do to become a part of HOLOFIT Community is sign up.
Log into your account any time you want to use HOLOFIT and the app saves all your workout data, offers a worldwide ranking leaderboard, the chance to compare your results to your friends, and tracks your performance improvement as you progress through different levels.