Imagine coming home from work, stressed and weary. You hop on your rower and are momentarily teleported to an out-of-this-world environment! You are rowing on Lac d'Aiguebelette, enjoying the calm waters as the sun sets in the distance. Much better than staring at the wall, right?
Vacation or workout? Why not both!
At Holodia, we aim to truly reinvent your fitness experience by turning workouts into vacations! Let us introduce you to our VR travel destinations!
HOLOFIT Go offers 16 unique virtual environments called HOLOworlds. All of our environments are completely original and designed by our small, in-house graphic team. Some are inspired by real cities and sports events, others by amazing natural environments or fantastic imaginary places. Each environment is a loop, with several entry points for you to start your workouts.
HOLOFIT environments
Aiguebelette

Antarctica

Aurvangar

Babylon

Cambridge

Canyon

Cyberpunk

Grand Sablon

Nihon

Paris

San Francisco

Saturn

Snowy Mountains

Troglodyte

Tropical

Underwater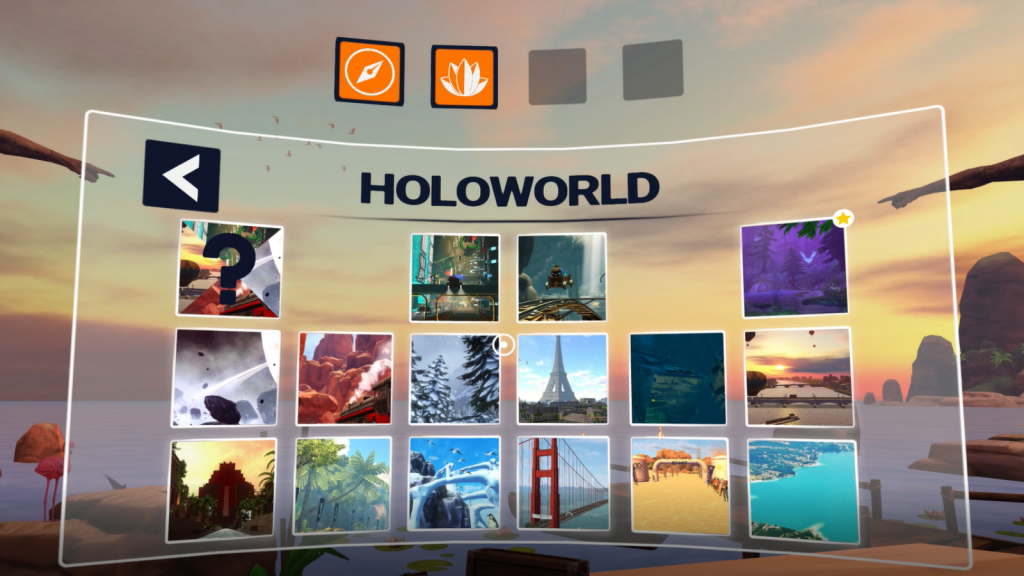 Length of HOLOworlds
Up to 5km:

Aiguebelette, Antarctica, Babylon, Troglodyte, Tropical, Paris, San Francisco, Snowy Mountains

5-10km:

Canyon, Cambridge, Saturn, Underwater

10+km:

Grand Sablon Desert
Now, let's dive deeper into each HOLOFIT Go environment!
Real cities
Paris
Explore the City of Light, Love, and delicious pastries! Jog, cycle or run around the Eiffel Tower, Notre Dame, Montmartre and Arc de Triomphe from dusk till dawn. Be ready for some surprises at the Louvre and unusual sightings in the streets. Don`t forget to wave back to all the friendly bypassers saying Bonjour, and make sure to do a little dance routine while attending the concert. Enjoy the surreal pink sunset, while overlooking the Seine river!
We did our best to bring the Parisian atmosphere to life! Our suggestion for this environment is the Upbeat playlist that will surely eliminate that afternoon energy dip!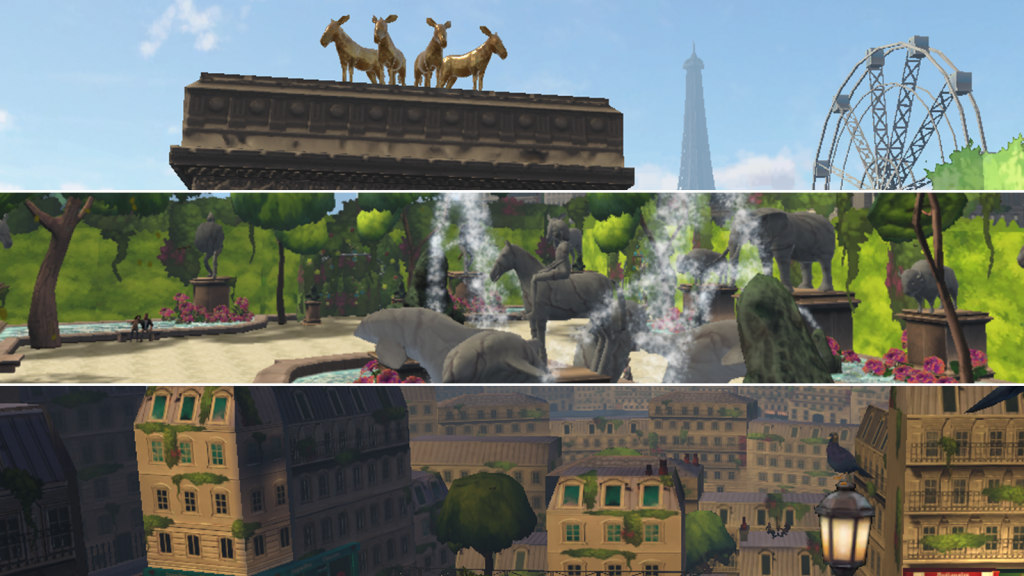 Real sport events
Aiguebelette
In 2015 the HOLODIA team was at Lac d'Aiguebelette, France, attending the World Rowing Championship. We got so inspired by the competition and the lake itself, that we had to recreate it in VR! 
Now, you have the chance to experience this amazing environment from the comfort of your home! We wanted to stay true to the original, so we didn't add any additional animations. Enjoy your workout while rowing or pedaling across the shiny water, surrounded by impressive mountains!
You might notice a difference when it comes to the boat direction when rowing. In environments like this, which are sport-focused and competitive, the boat goes backward, as it would in real life. However, in other exploration-focused environments, we opted for the boat to go forwards, in order to provide the best possible experience!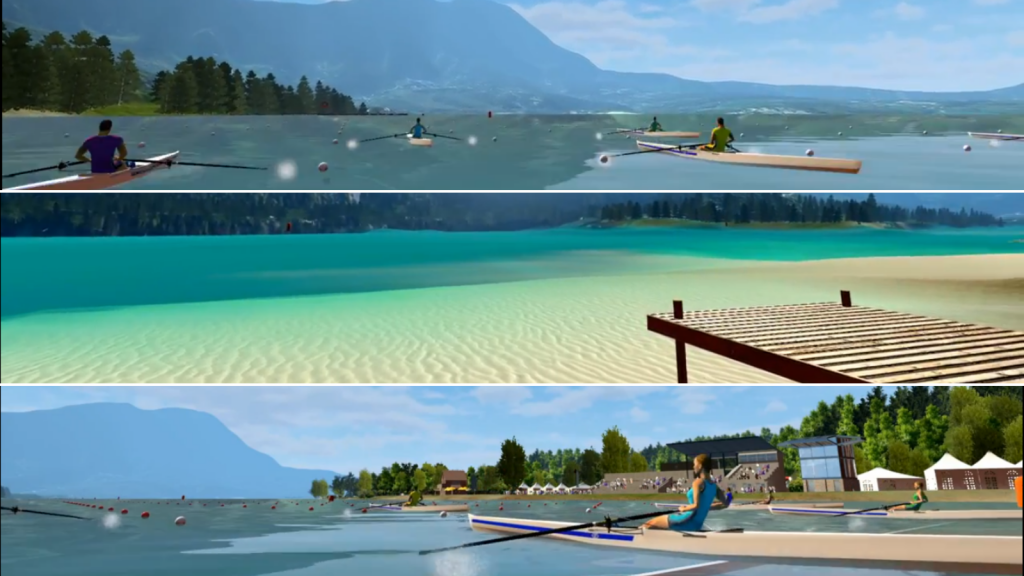 Cambridge
The Cambridge environment, similar to Aiguebelette, became part of HOLOFIT because of a rowing race. The one in question is the annual University Boat Race between the Cambridge University Boat Club and Oxford University Boat Club.
Our Cambridge is inspired by the river Thames, on which the actual race takes place, as well as the two universities. The environment features a stunning sunset with Cappadocia-inspired hot air balloons, cute ducks, famous aesthetic with numerous bridges, and double-decker buses rushing on the river banks.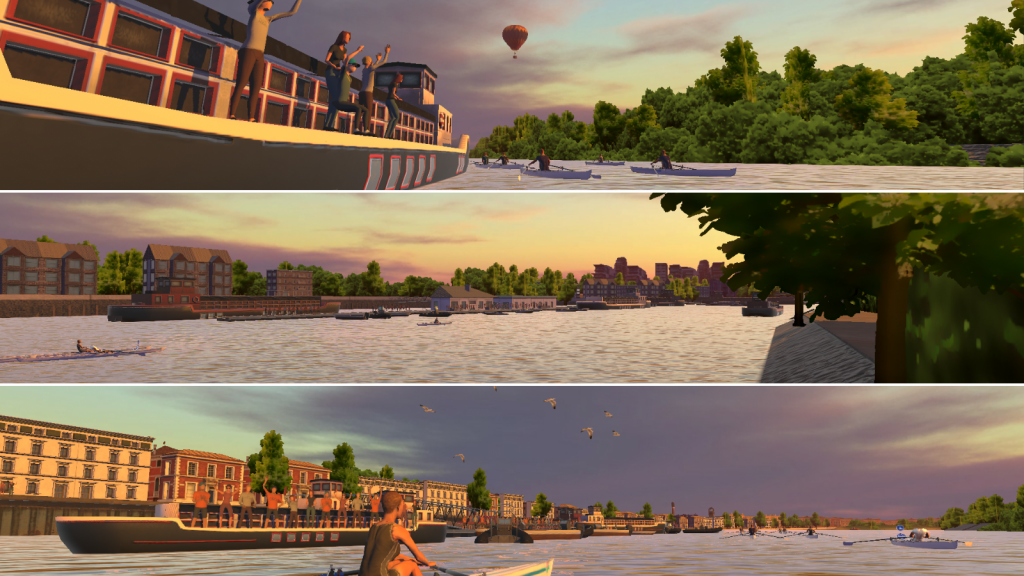 Grand Sablon Desert
Inspired by Indiana Jones` ideology of getting out of the library, we have this to say:  If you want to build endurance, train in the Desert.
The environment is based on the longest foot race on Earth, an ultramarathon through the Sahara desert, lasting approximately 6 days – 251km (156 mi). HOLOFIT`s Grand Sablon is currently 17km (10+ mi) long, but will soon become a true half-marathon! 
Together with other racers, explore the vast and illusive sand dunes, lush oases, strange archeological sites, and history-inspired landmarks like the Egyptian pyramids and the Sphinx. Watch as day turns into night and the Moon and constellations take over the scenery. Pay special attention to the constellations, do you recognize any of them? 
Did you know? The Marathon des Sables was the brainchild of French concert promoter Patrick Bauer who in 1984 traversed the Sahara desert on foot and alone. He covered 350 km (214 mi) in 12 days without encountering a single oasis or desert community along the way.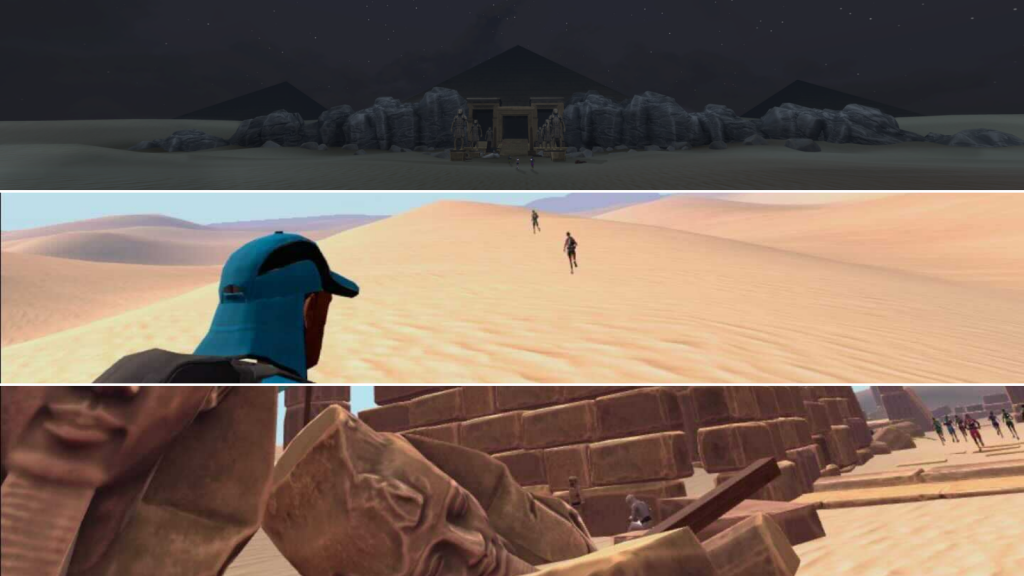 San Francisco
This realistic VR environment is inspired by the marathon that takes place in Golden Gate city – San Francisco! Get ready to be immersed in one of the world's most beautiful cities.
Even though the city itself is realistic, the things you encounter definitely are not! Citizens of San Francisco are used to big monsters attacking their bridge, but are you? Moreover, there have been sightings of strange lights and aircraft. Can you get to the bottom of San Francisco`s mysteries?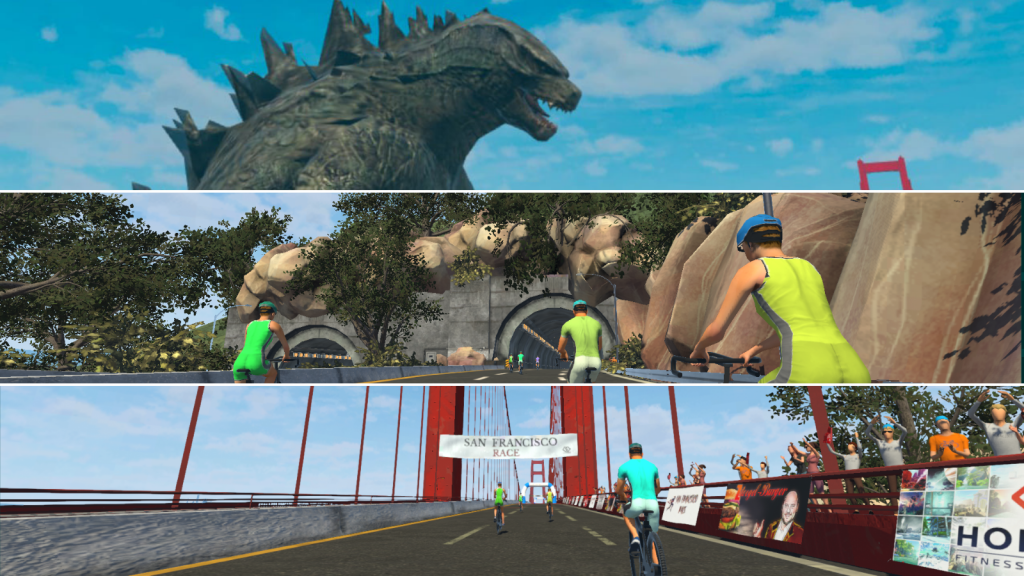 Natural Environments
Antarctica
If you are a fan of colder weather, get ready to conquer Antarctica! 
We`re taking you on an exploration through the deep snow, melting glaciers, and ice tunnels, surrounded by animals that can only be seen in this part of the world! Get ready to meet a bunch of penguins, seals, helpful polar bears, friendly seagulls, and playful orcas! And the best part, is you can see the enigmatic Northern Lights, a rare natural phenomenon above the magnetic poles of the northern and southern hemispheres of the Earth!
We suggest turning on the Zen mode and immersing yourself in your workout, surrounded by the sounds of wind howling, ice cracking, the seagulls laughing and your feet squeaking in the snow!
Working out in VR never looked so cool!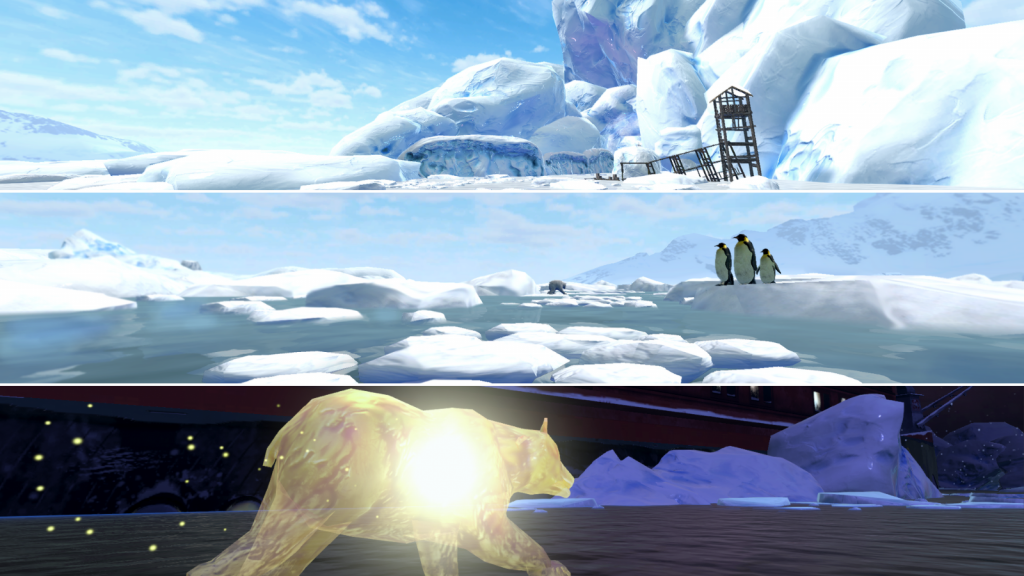 Canyon
Inspired by the world-famous natural landmark – The Grand Canyon, our Canyon environment brings an awe-worthy atmosphere to you! Watch a tornado from close proximity, and explore the depths and the heights of the canyon as you try to outrun tumbleweed! Get to know our version of the wild west, accompanied by an interesting aircraft and an ode to the famous Back to the Future movie series. 
Make sure you have your sunscreen on, as the Canyon offers little to no shade!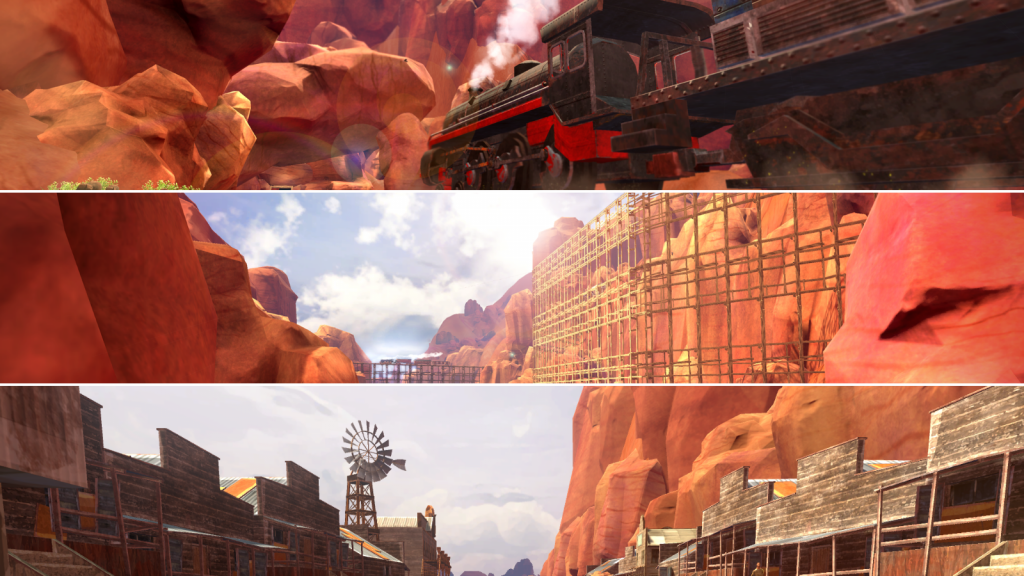 Snowy Mountains
Another environment for winter lovers! This one takes us on a journey through a mountain area – an ice-covered lake, a magical forest with strange animals, and a  village with cozy cabins. Pay close attention to all the wild animals you might encounter, especially the wise owl!
If you ask our members to think of a perfect winter getaway, many of them think of Snowy Mountains! Despite the snow, they describe it as beautiful and heartwarming. The perfect environment for a relaxing workout!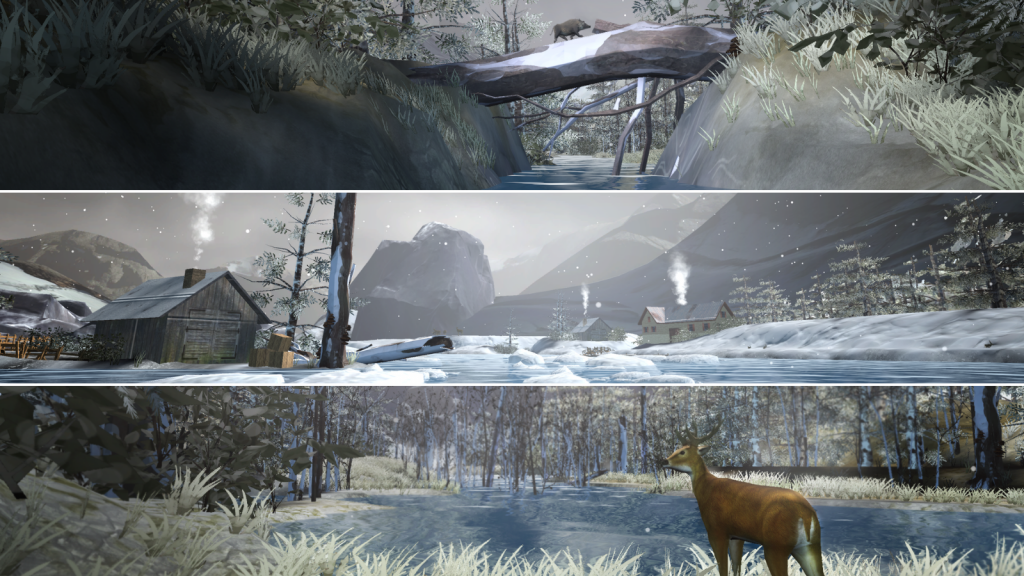 Tropical
Our first environment ever created – Tropical! Not only has this remained one of our personal favorites, but the fan-favorite as well!
This has quickly become their preferred choice for more chilled workouts. And how could it not! Imagine finding yourself on a tropical island, far away from any city noise, just you, the calming waters, and a bunch of amazing animals (some pink and magnificent). Take a deep breath as you become one with nature. The only thing to break your focus might be those pesky monkeys who just love to joke around. Oh, and the crocodiles, they seem to lurk everywhere!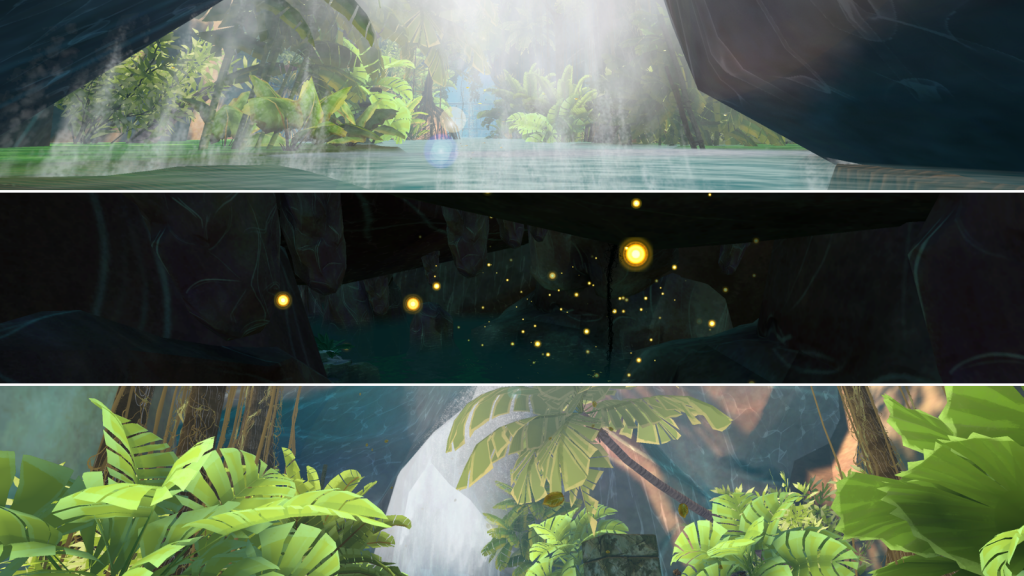 History comes to life
Babylon
Who doesn't want to travel back in time? With HOLOFIT, you can go back to Babylon, the capital city of the ancient Babylonian empire! 
This developed and the heavily-populated city was home to many famous figures, such as Hammurabi, the author of the Code of Hammurabi. Moreover, the city is best known for its fascinating architecture. Here's your chance to see the Ishtar Gate, the temple of Marduk, the Tower of Babel, and the Hanging Gardens of Semiramis. Babylonians are known for being very friendly, so don't be surprised if they say hi or seem like they want to stop you and chat!
If you'd like to know more about the process of creating each world, take a look at our previous article! Here, we look back at how Babylon was created.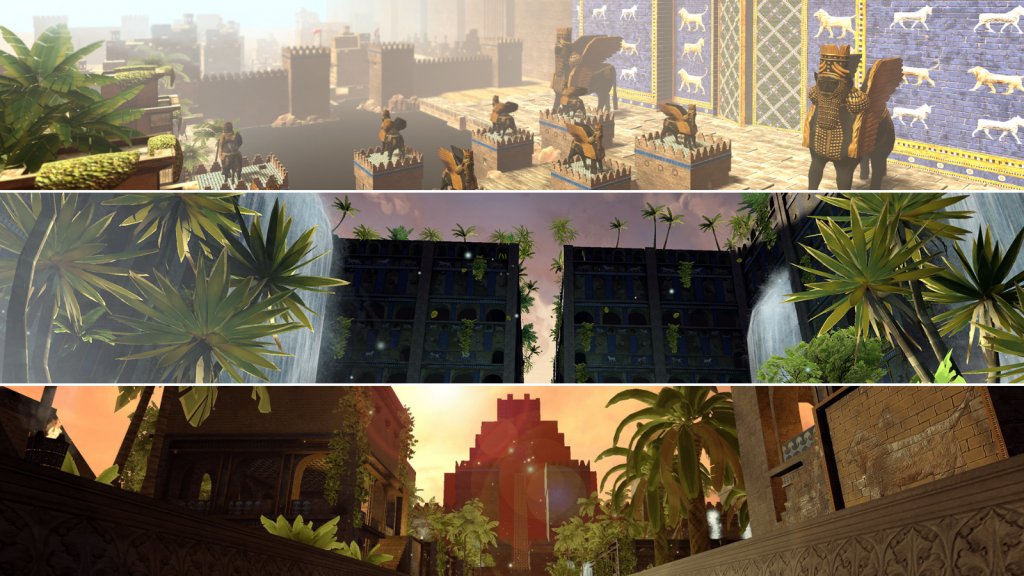 Fantasy Worlds
Aurvangar
A perfect mix of fantasy, nature, adventure, and signature HOLOFIT surprises, Aurvangar is exactly what you've asked for! A sequel to the Troglodyte HOLOworld, and further inspired by Nordic mythology, Aurvangar will give you a fantastic experience.
Aurvangar or the gravelly wetlands in Old Norse is a place where a group of dwarves used to live. According to Norse mythology, the world was created from the giant Ymir and originally, there were 4 dwarves, each sent to a corner of the world to hold the sky.
The dwarf mountain holds many secrets…Those who dare explore it – beware! Stay vigilant, although there seem to be no dwarves in sight, other creatures might be lurking in the abandoned city…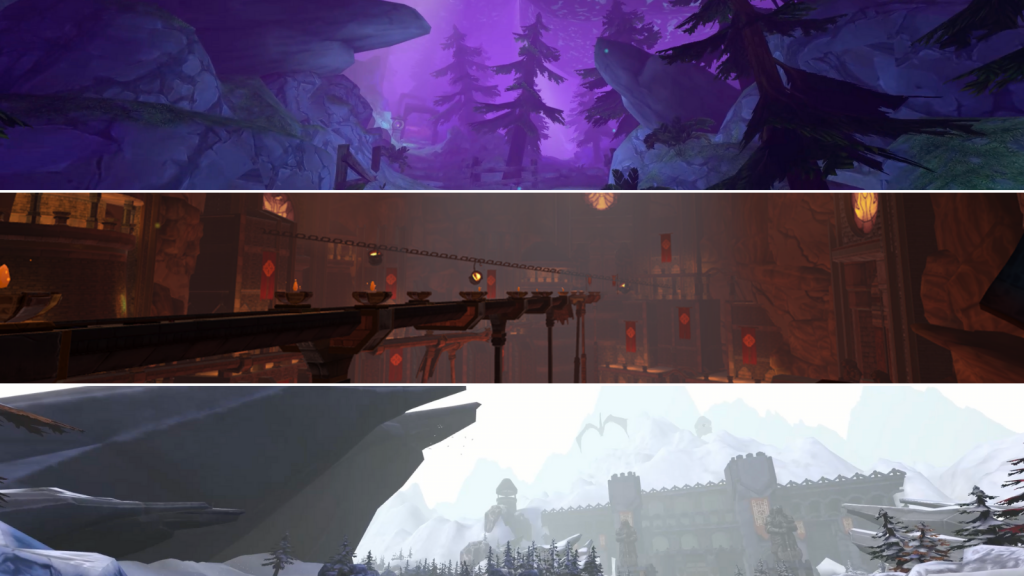 Cyberpunk
Explore this dystopian world and relive the excitement of Blade Runner, all while getting fit.
At the very start, you'll find yourself in the Underworld city, at the edge of this futuristic society, and you'll have to overcome great challenges to get to the cathartic High World.
But beware: this world is a challenging one, with lots of exciting quests for your mind and body.
Do you think you can do it?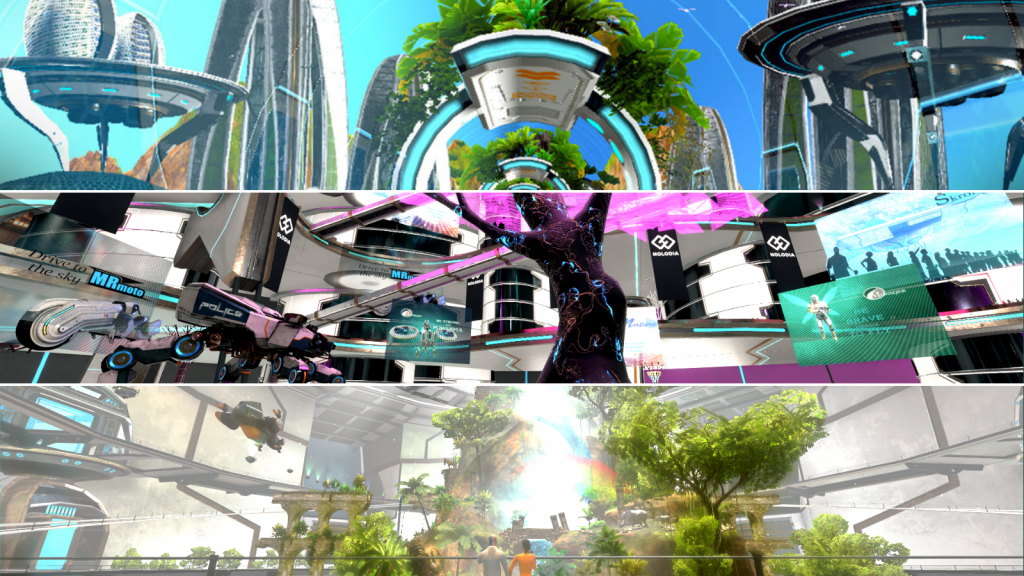 Nihon
Welcome to Nihon – a world shrouded in mystery. This Far East environment will take your breath away with its stunning flora and fauna, and bewitch you with its magic.
Unlike any other HOLOworlds, this one has a new and unique gameplay, accompanied by a backstory that only the most devoted athletes will get to the bottom of. Make sure to keep your eyes and ears open, as even the smallest details may play an important role in unraveling the mystery that is Nihon.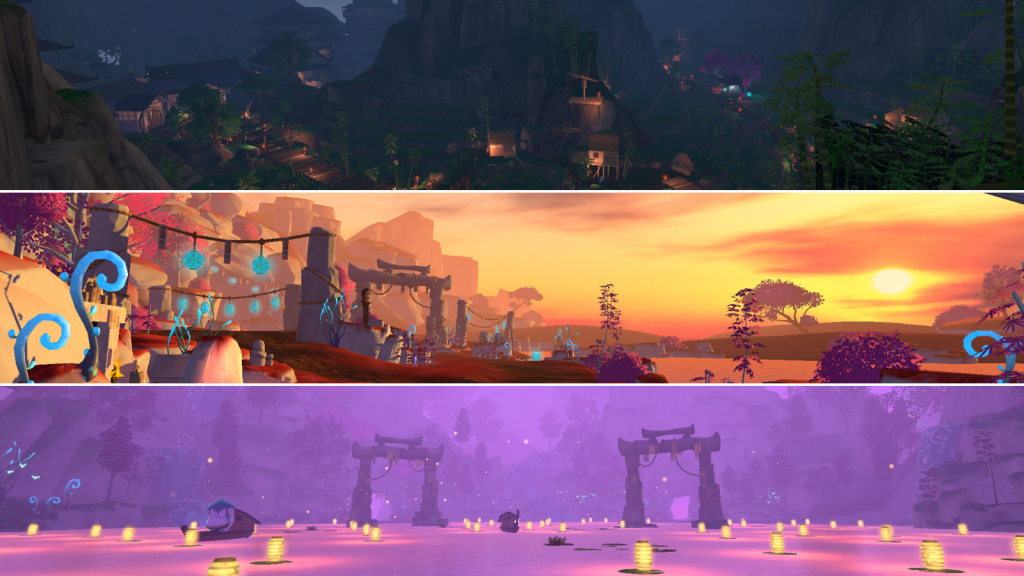 Saturn
When you get bored with our world, there's a perfect escape solution! Make sure your headset is secured tightly and that your fitness vehicle is ready for take-off!
Get ready for some deep space exploration, around the second-largest planet in our Solar system. Saturn, the Ringed Planet, has been known to us and observed since ancient times. With HOLOFIT, it's closer than ever! Navigate between asteroids as you travel from one space station to another!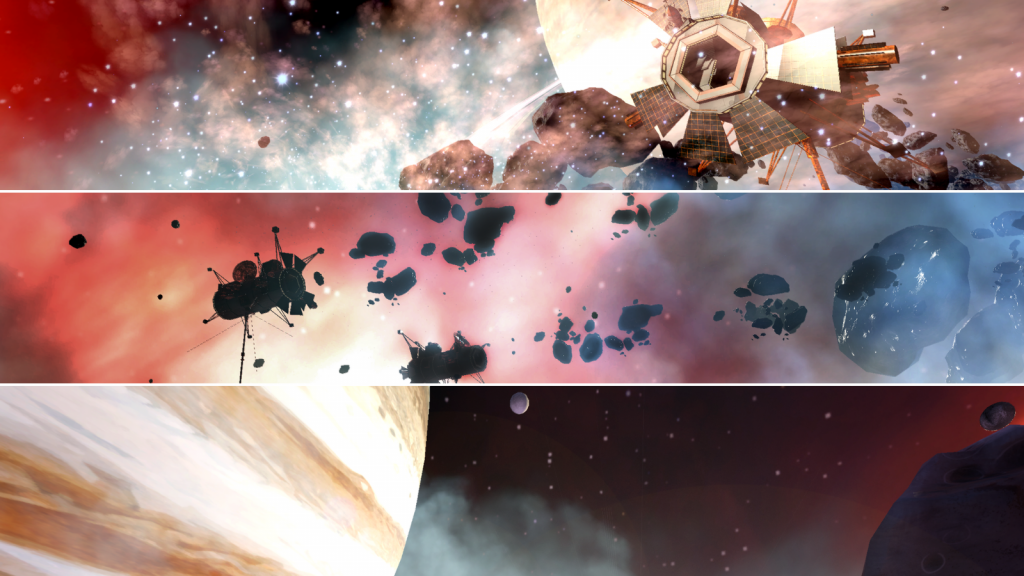 Troglodyte
The mysterious Troglodyte is another one of HOLOFIT's fantasy environments that has quickly become a fan-favorite.
This environment is more game-like than others. Step through the mine shaft door into a mysterious underground world! Explore the Fungi and Crystal caves as you encounter strange and magical creatures. Beware, some of them have…an explosive temper. Help the hard-working dwarfs by finding all the missing pieces they need to assemble a robot!
The Troglodyte world will soon be expanded – a new track and new and interactive trophies.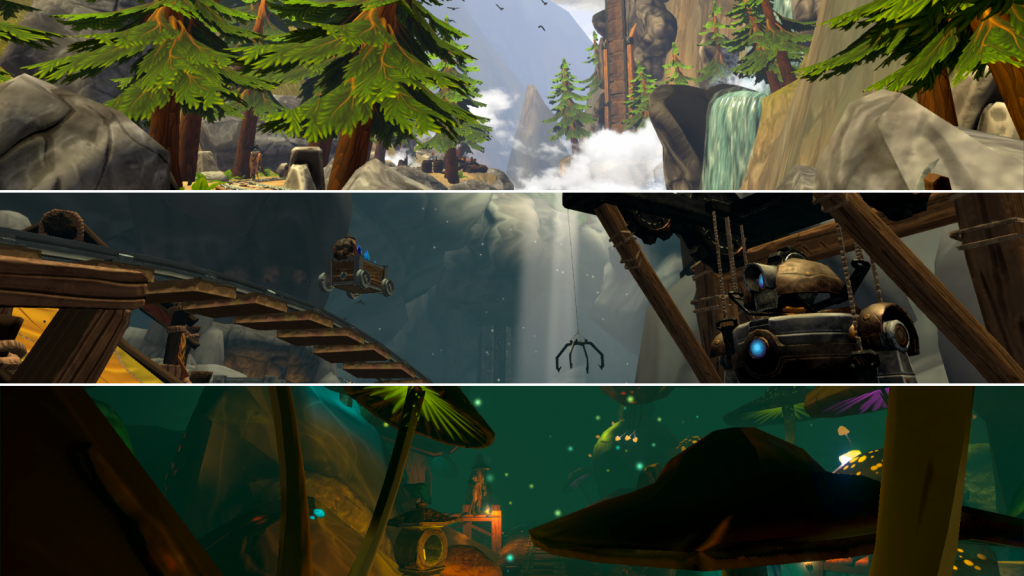 Underwater
The Underwater world gives us serious Atlantis vibes!
Dive in to explore sunken ships, and ruins of an underwater city, and meet (mostly) friendly underwater creatures, and some..not so suitable for the terrain. Marvel from close range at the whales, as they communicate by singing.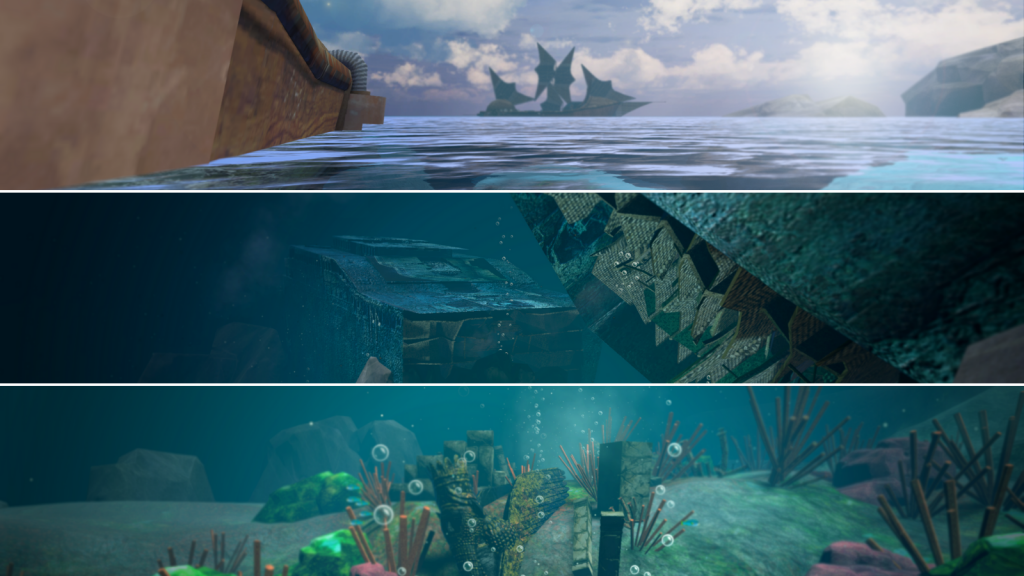 What's next
Team Holodia will be very busy this summer working on some very important projects that will significantly improve your HOLOFIT experience. Apart from the complete UI and UX redesign, specific upgrades regarding environments include:
Cyberpunk: We're not sure who's looking forward to Cyberpunk more – you or us! But either way, we will use the summer months to work on it and can't wait to release it.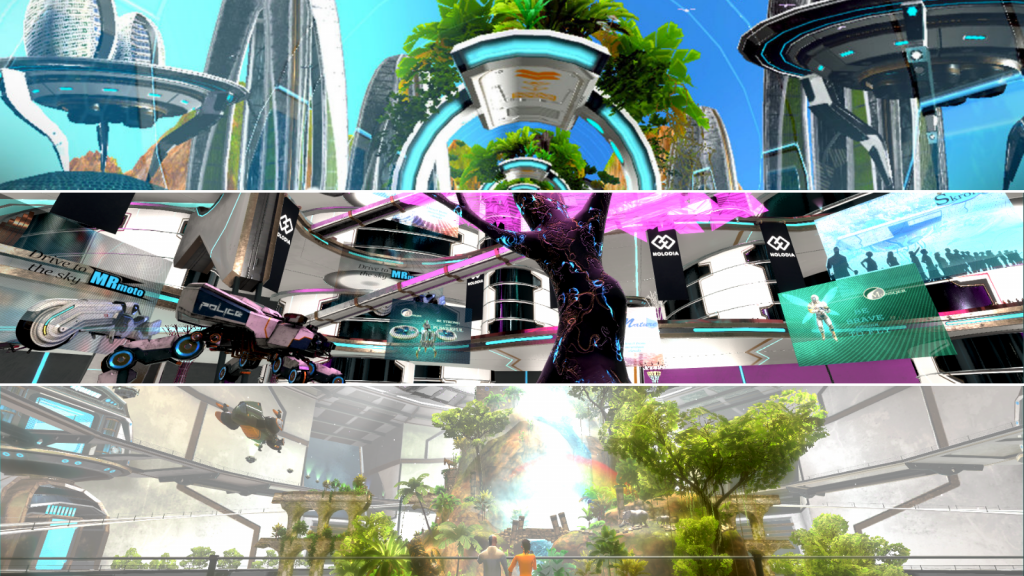 Troglodyte: Remastered Troglodyte includes a new mysterious path, making your workouts longer!
Desert: We plan on extending the Desert even further, making it a half-marathon track!
Moreover, we plan on creating new and intriguing worlds in the future! We have a long list of ideas, many of which have been contributed by our lovely members. Looking forward to sharing everything with you!
P.S. If you haven't yet reviewed HOLOFIT on the Oculus Quest store, please leave a review here. We would really appreciate it as it helps us spread the word about HOLOFIT!
Are you ready to immerse yourself in one of these amazing worlds?
Start your free trial today!