Is there a VR app for the Oculus Quest that I can use on my indoor bike to ride through virtual worlds from the comfort of my home? Yes – meet HOLOFIT! 
But how does it work? Do I have everything that I need? 
Let's start from the beginning. 
HOLOFIT VR Cycling
HOLOFIT is a VR app that lets users cycle through amazing virtual worlds while chasing trophies, conquering new levels, and competing with other members from all around the world. 
With 15+ VR worlds and new updates released each month, HOLOFIT ensures that you always have something fresh to come back to. Dust off that indoor bike of yours and start enjoying it! 
Install HOLOFIT on your Quest. Get on the bike and put the headset on, and your workouts will become vacations.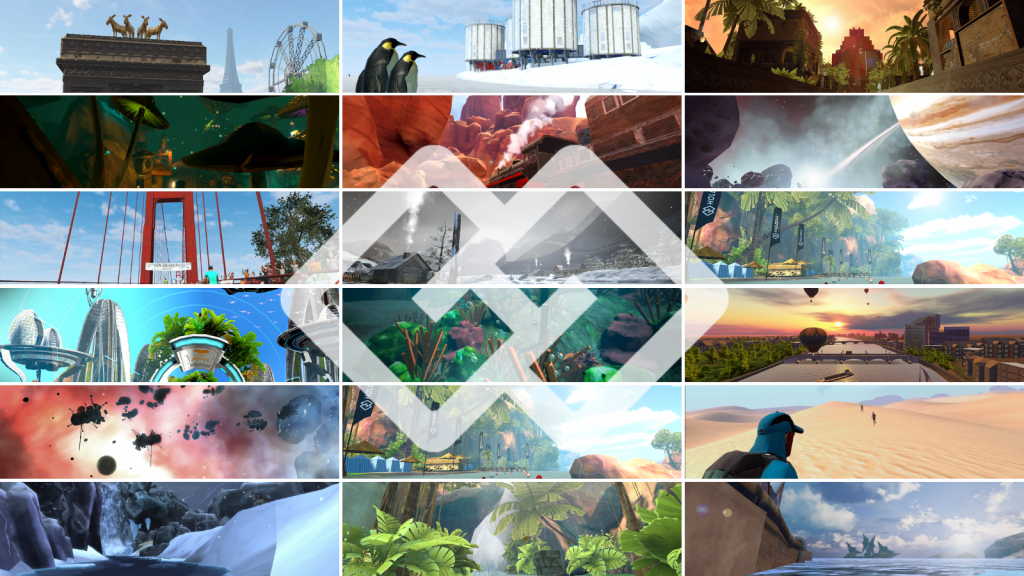 Check our video to see HOLOFIT cycling in action!
Can any indoor bike be used for VR cycling?
Absolutely!
HOLOFIT works with all indoor bikes, no matter the brand or how old it is. If the pedals are turning, you are good to go! 
If your bike has a FTMS Bluetooth, you can directly connect it to HOLOFIT; if not, you can enable Bluetooth connectivity on absolutely any bike with the addition of a simple cadence sensor. Most cadence sensors are compatible, but we recommend that you check the full list here.
What do you need for HOLOFIT:
VR headset (check out the

Oculus store

)

Cadence sensor (we recommend the iGPSPORT C61 cadence sensor)

HOLOFIT membership (monthly or yearly)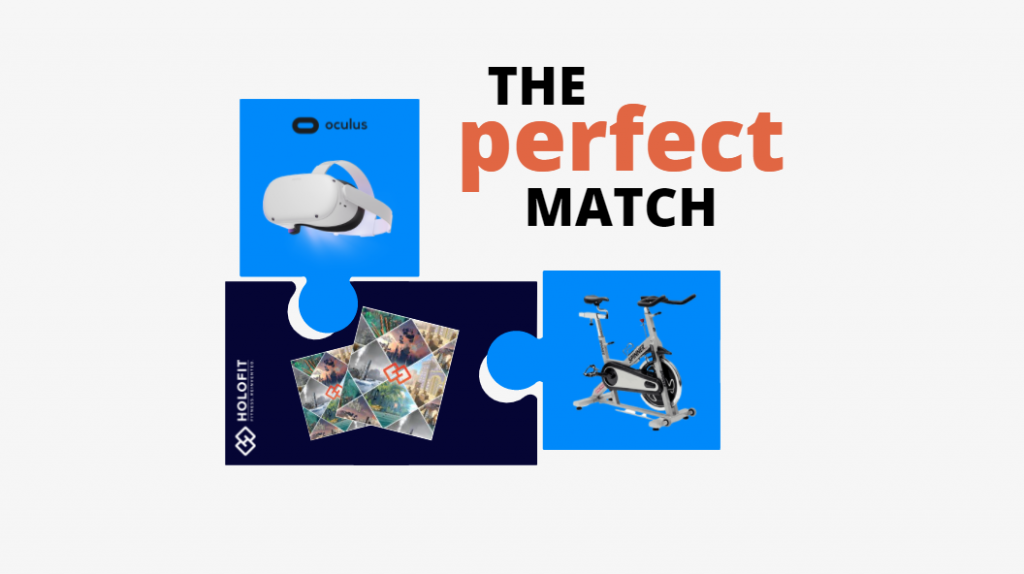 To set up the cadence sensor on your bike, check our previous blog article ici.. 
Cycling workouts
HOLOFIT offers you 6 different workout modes, including guided training programs, each of them catering to your fitness level!
Here are some of our suggestions for an amazing HOLOFIT workout:
Just ride
If you are just starting out, we recommend the Explore mode – pick a world of your
choice, and just ride through it, explore it and try to collect all the hidden trophies.
You can also try the Zen mode, which allows the user to become completely immersed in the HOLOworld. No trophies, stats or distractions. Just you and the virtual environment.
The notorious HIIT
A 15-minute HIIT workout can burn up to 250 calories!
This highly productive workout program consists of alternating shorter periods of high intensity with periods of recovery, the combination of which allows you to actually continue burning extra calories after you finish your workout!
Endurance workout
Endurance is built over time, which is why our guided cardio program is the perfect companion!
Cardio workout can be adjusted to your fitness level. There are 5 difficulty levels, ranging from very easy to very hard. 
Start slowly, with the 10-minute workout and build your endurance towards a 40 or even 60-minute long ride!
Fat burn 
The fat burn workout is based on intense, calorie-burning interval training that will work up your muscles and increase your heart rate for shorter periods, combining it with less intense periods. 
Fat Burn mode should be done for a minimum of 30 minutes and adjusted to your fitness level.
Beat-Your-Best workout
Let's lean into that competitive human nature. A workout that allows you to race against your previous best score, is perfect for monitoring your personal progress!
The first time you choose a specific time interval, the distance you've gone will be recorded. The next time you choose the same interval, you will see a recording of your best score as a ghostly figure. 
Beat your score by beating the ghost!
Race others online
If you don't like working out on your own and enjoy the social aspect of exercising, try Multiplayer mode and race against other HOLOFITTERS.
To get to know other Holofitters, arrange workouts and discuss anything cycling and fitness- related – join our online Facebook Community.
Additionally, you can download the HOLOFIT Companion app to follow your results and progress, see how you compare to other HOLOFIT members, and sync your workouts directly to Strava, Google Fit and Apple Health.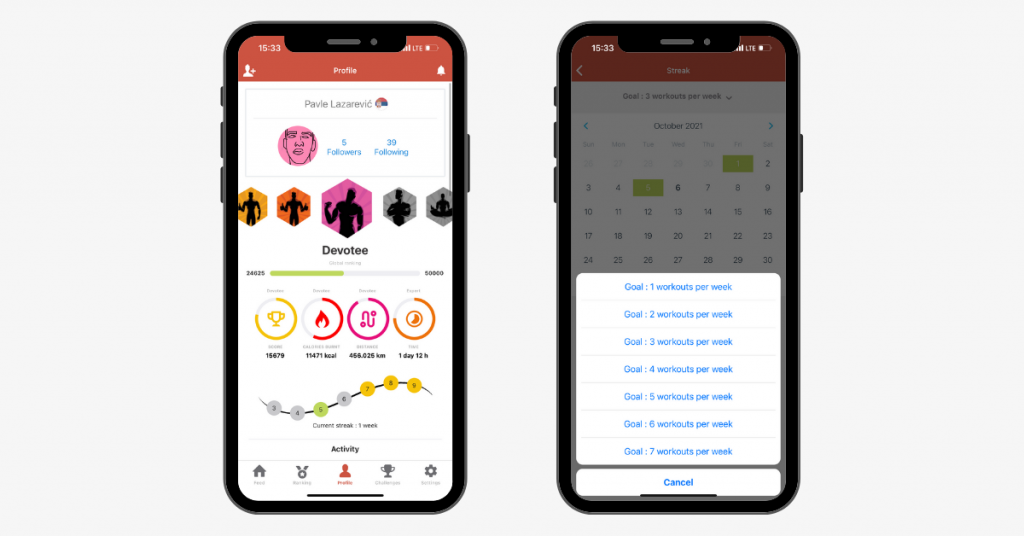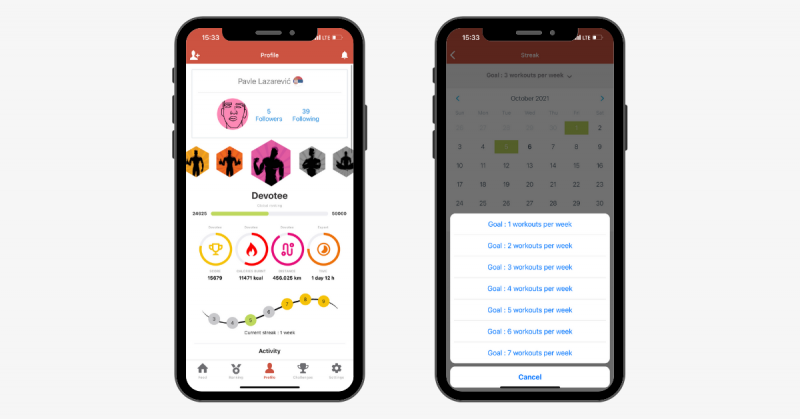 If you're ready to give HOLOFIT a try, sign up for your
free trial today
!