For me, the downside of working out on my own has always been picking an exercise and figuring out a workout plan. Cycle endlessly on the bike? Try to do a workout while following a HIIT video online?
Not anymore!
HOLOFIT offers you 6 different workout modes, including guided training programs, each of them catering to your fitness level! 
No matter if you are using a fitness machine, or working out in Freestyle mode with your controllers, you`ll have access to all 6 modes. Let's find out more about them:
EXPLORE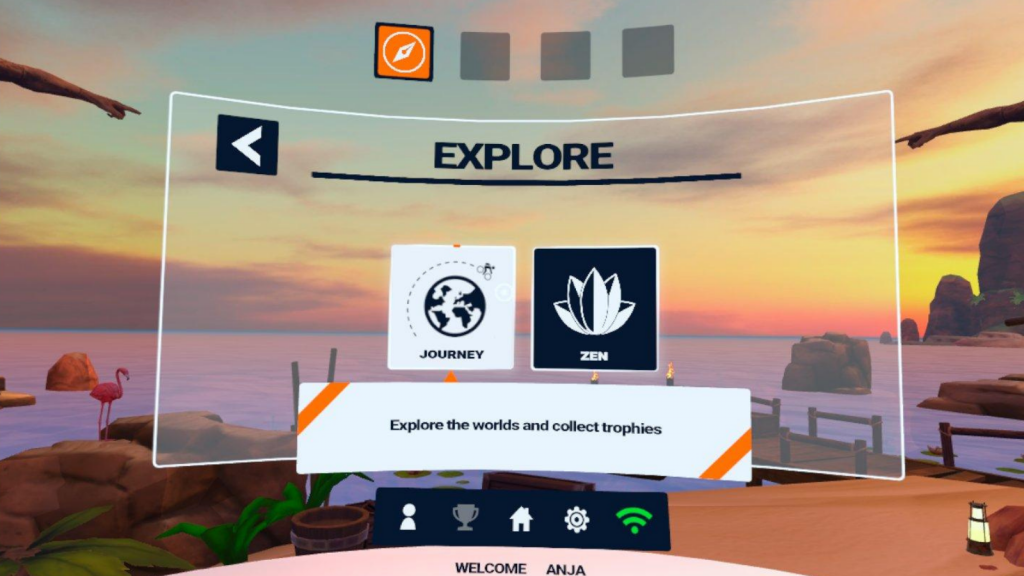 Journey (aka Explore)
This immersive and gamified mode is great for fitness beginners and enthusiasts alike! 
The goal is to collect various trophies scattered around our virtual environments. You'll encounter intriguing hidden trophies, as well as 3 special ones that you'll have to hunt down.
To catch a trophy, you need to do the following:
Listen for the special sound, which announces that a trophy is close by

Once the trophy pops up, lock your eyes on it. You will recognize it by an ORANGE square that appears around them

Focus on it and wait for the orange square to fill up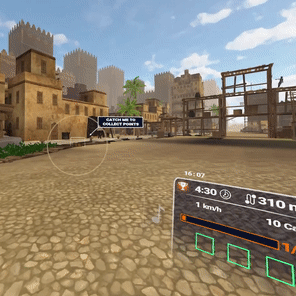 To catch the special trophy, you need to do the following:
Cross a certain distance in the environment to trigger their spawn

Once the trophy pops up, lock your eyes on it. You will recognize them by a GREEN circle that appears around them

A

BE READY

sign will pop up

Speed up in order to catch the trophy before the time runs out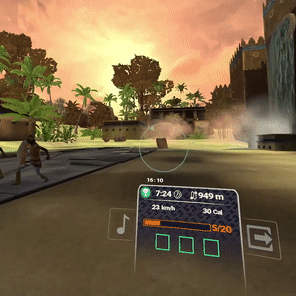 To spice things up, we've made three categories of special trophies: Special, Epic, and Legendary, with their rarity increasing in the same order.
For each Journey workout, you'll  get three special trophies (five in Grand Sablon), but Epic and Legendary ones will only appear every so often.
Epic and Legendary trophies also get increasingly tougher to catch than Special trophies – and you won't know the rarity of the trophy until you encounter it! Fun, right?!
Your workouts will sync to your HOLOFIT companion app so that you can check the trophies you caught and how many you are yet to discover. The more trophies you collect, the more points you get. These points help you move up the ranks.
Zen
Zen mode is our relaxing, endless workout mode, which can be found in the "Explore" menu. There are no stats, trophies, points, or distractions, just you and the environment of your choice. You will only hear the ambient music and environment sounds, which make for total immersion!
Just focus on your breathing and the amazing world around you. 
Pro tip: Turn up the volume in Zen mode if you want to truly enjoy the environment sounds, like the wind howling and ice cracking in Antarctica, or the exotic birds singing in Tropical.
TRAIN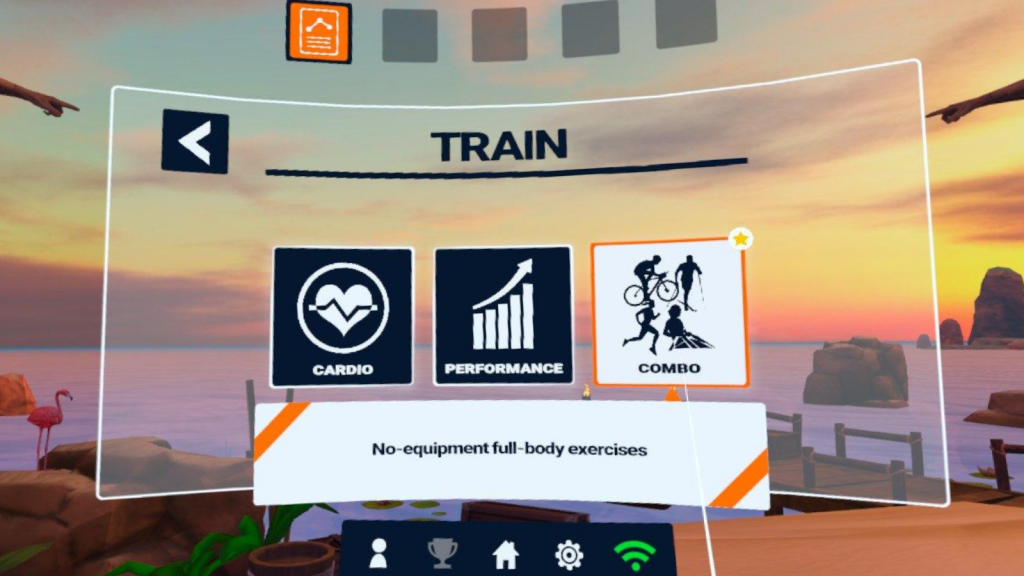 CardioGoals
Guided cardio workouts can be found in the "Train" menu. These workouts are based on fitness science and we are constantly implementing new ones. 
Pick your guided plan, follow the effort curve and you'll be rewarded points based on how precise you are.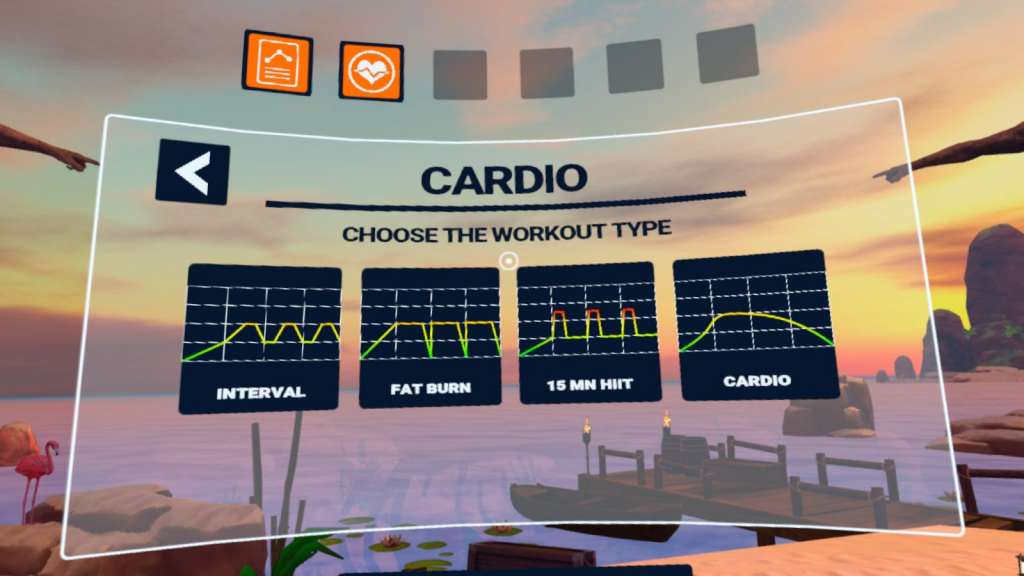 There are 4 guided workout options:
HIIT
HIIT or high-intensity interval training consists of alternating shorter periods of high intensity with periods of recovery, the combination of which allows you to actually continue burning extra calories after you finish your workout!
HIIT workout lasts 15 minutes and can also be adjusted to your fitness level. Make sure to try it, it may be tough but it is one of the most productive workout programs that you can choose! 
Fat burn
The fat burn workout is based on intense, calorie-burning interval training that will work up your muscles and increase your heart rate for shorter periods, combining it with less intense periods. 
Fat Burn mode should be done for a minimum of 30 minutes and adjusted to your fitness level. There are 5 difficulty levels, ranging from very easy to very hard.
Interval training
Interval training is perfect for building endurance and burning calories. It consists of alternating periods of high intensity with less intense, longer periods of recovery. 
This may sound fairly similar to HIIT, but it's important to note that HIIT focuses on the maximum energy burst that you can provide in high-intensity periods, while interval training includes lower to moderate intensity here. 
Cardio
Get that cardiovascular system going. Starting with periods of low intensity, moving on to higher intensity and ending in your lower range is sure to get your blood flowing, over time helping you improve your overall health significantly. 
Freestyle Combo Workouts
This whole-body workout can only be done by using your controllers. 
We`ve combined 3 Freestyle sports – running, cycling, and skiing – with a series of bodyweight exercises. 
The workout starts with one of the 3 random sports activities, takes you to the exercise platform where you have to complete a series of bodyweight exercises, and then challenges you in the next sport activity.
For now, bodyweight exercises include boxing, squats, wide squats, and log cutting, combined with a relaxing breathing exercise.
This workout mode is the newest addition to HOLOFIT, and we`re looking forward to developing it further, turning HOLOFIT into the ultimate fitness companion!
Performance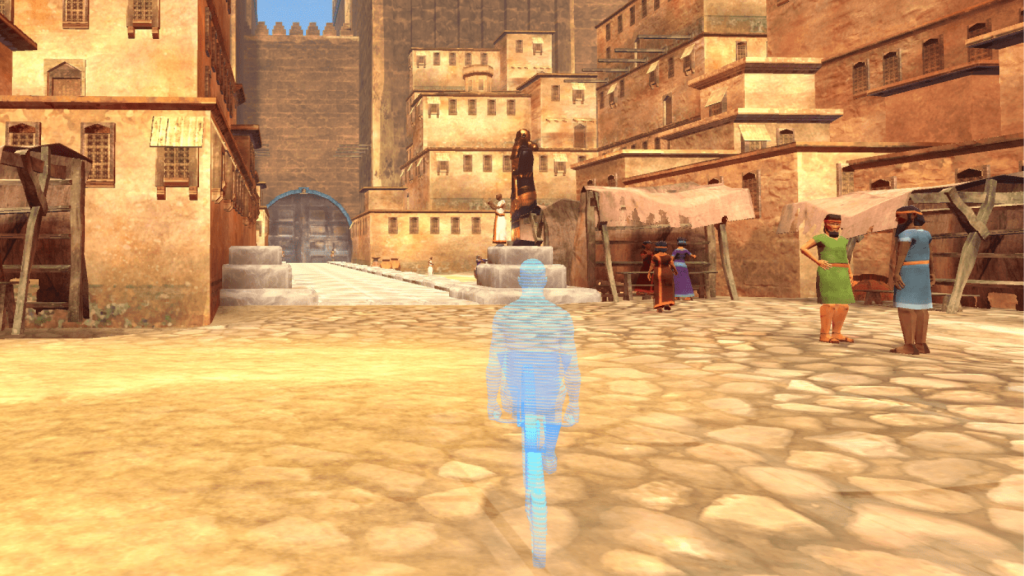 The Performance workout is also known as the Time Attack mode, which consists of six time intervals: 2min, 5min, 10min, 15min, 20min, and 30min. The goal is to beat your own score in competitive play.
The first time you choose a specific time interval, the distance you've gone will be recorded. The next time you choose the same interval, you will see a recording of your best score as a ghostly figure. 
Beat your score by beating the ghost!
For those who work out on multiple fitness machines and in different Freestyle sports, each machine or sport will have individual scores. Moreover, you can reset your score at any time, by clicking on the RESET button in the performance tab.
COMPETE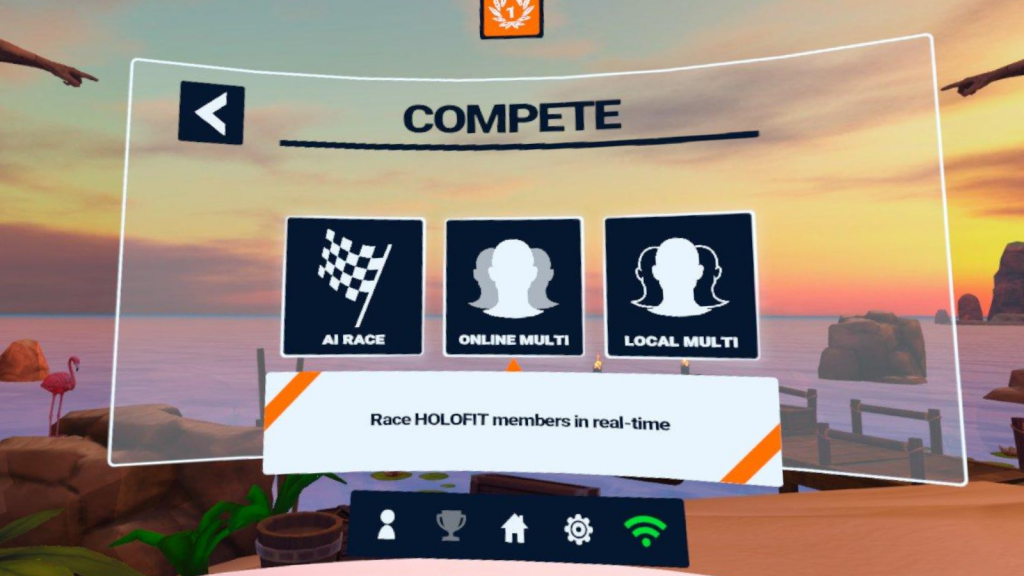 Race
In Race mode, you compete against computer-generated players ready to match your fitness level.
It is available at distances of 500m, 1000m, 2000m, 5000m, 10km or even as a half-marathon at 21.09km.
Multiplayer race
If you don't like working out on your own and enjoy the social aspect of exercising, try Multiplayer mode! Get everyone working together by engaging in small group training or competitions. Up to 5 players can join a race.
Online multiplayer (Race HOLOFIT members in real-time)
Any HOLOFIT member can create an online race that other players can join.
The only thing you have to do is select the Online multiplayer workout mode in the HOLOFIT menu. If there is an already created race, you'll join right in. If not, you'll create a new race.
The member that creates the game is called the Host and only they can start the race. If you create the game, you'll see the option to start the race on your screen when all the players join. If you join the race, you'll see your name and the rest of the players' names and wait for the race to start.
In case there are not enough players online, you`ll race against real player recordings. You can distinguish a real person from a player recording based on the icon next to their name. Player recordings have a floppy disc (akka the "save" icon) next to their name. When the other player has joined, the host can start the race!
Want to get the best out of your HOLOFIT VR workouts? Check out what else HOLOFIT has to offer:
HOLOFIT Companion App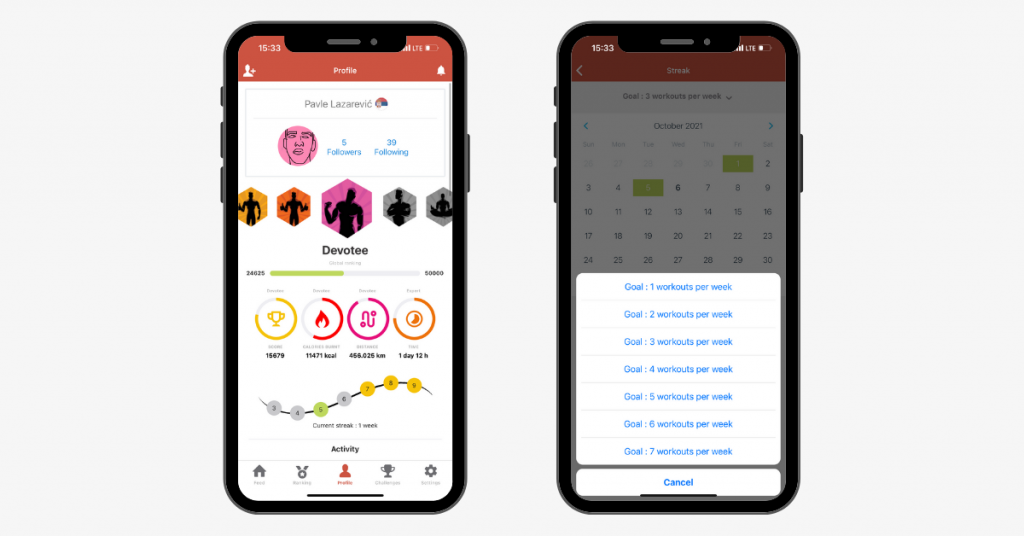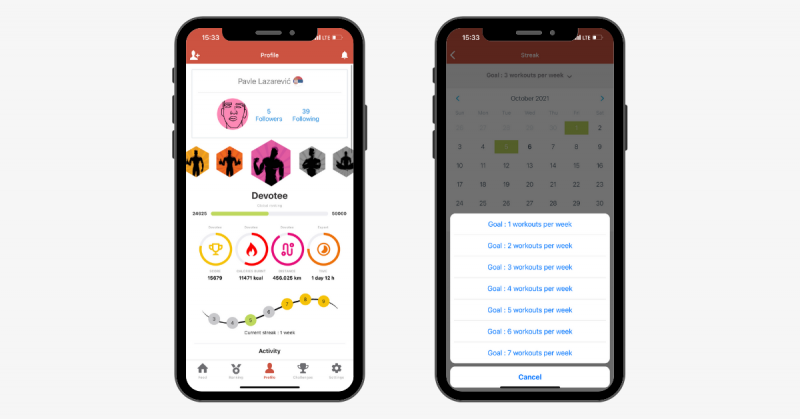 Your trophy collection can be found in the HOLOFIT Companion App, which provides you with advanced tracking, comparison, competition, and connectivity features that connect you with other members of our community. You can download the HOLOFIT Companion App on your phone from the App Store or the Google Play Store.
The new and upgraded Companion app will let you follow and engage with other HOLOFITTERS, share your workouts to Strava and Apple Health, help you organize your time better by scheduling workouts, and stay on top of your goals with the help of the Streak. Finally, the companion app will also become a hub for our community-wide challenges for additional workout motivation. 
HOLOFIT Companion App 2.0 is coming soon!
Ranking score
As you work out in HOLOFIT, you collect points that help you move up the ranks. This is done through your global ranking. The global ranking is a sum of: 
Trophies score

shows the points you obtained by collecting trophies in Explore mode

Calories burnt

while working out in HOLOFIT

Total distance

you've gone 

Total time

spent working out in HOLOFIT
For each ranking category, there is a grade. By accumulating enough points in each grade you move up to become:
Streak
Our streak system will help you stay on top of your goals by motivating you to work out every single week. It's simple: set your weekly workout goal, and try to achieve it every week. 
Each week you achieve your goal, your streak will increase by one. But miss one week, and your streak will go back to zero. In fitness, consistency is key and it will see you to your goals in record time! 
Challenges
Still not sure which workout to do or need additional motivation? Join our monthly challenges and daily missions, guaranteed to keep you entertained and motivated.
Each challenge consists of carefully curated workouts, which will help you determine your fitness level and show you the ins and outs of HOLOFIT!
HOLOFIT VR Fitness Community
To get to know other Holofitters, get motivated, arrange workouts and discuss anything fitness-related – join our online Community! It's the place to share your experience, read about other users' experiences, and also serves as a fantastic accountability hub.