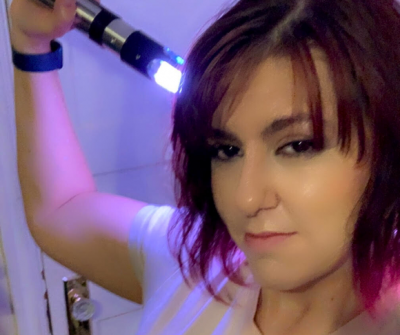 Welcome crew! 
I'm Kris (Kristine) Lyons, but you know me by my username Kryze_L. As you can tell, I'm a Star Wars fan, and for those who can't, my username is from a favorite character who doesn't give up -Bo Katan Kryze of Mandalore. I'll be turning 50 at the end of May. I  reside in the eastern part of Pennsylvania, USA. I'm also a stay-at-home mom ever since my youngest daughter was diagnosed with Type 1 Diabetes and needed extra support while in school. 
My HOLOFIT Journey
It was January of 2021 when I began my Holofit obsession. 
I specifically chose the Oculus Quest 2 for my family's Christmas present just so I could try Holofit. I was looking for something to enhance my rowing workouts. Here I use the term workout loosely, as I was barely lasting 20  minutes and had no idea of my speed or distance at the end of my torture. 
I was using and still use a hydraulic, non-Bluetooth rower from Sunny. Despite the boredom, these brief sessions did increase my stamina and strength to a small degree allowing me to begin in earnest with Holofit. A couple of months later, I insisted my husband dig out my old mountain bike and its trainer from the corner of our basement. After a tune-up and adding a cadence sensor, I started using my bike with Holofit as well.  
I decided I had had enough and needed to focus on my health after seeing a photo taken at a  Heroes & Villains Comic Con (photo) plus realizing my US women's size 14 pants were getting tight. I have several autoimmune diseases including Fibromyalgia which made this an extreme challenge. I'm very fortunate to have found a routine of supplements that allows me to move past this and into a type of remission. I know this may not last so I will give my all while I'm able.  
By November 2021, ten months later, I hit my goal and was wearing a US women's size 4! 
I remember that July though. I had maybe lost one size. I was crying and a little bit depressed thinking after expending all my energy putting in all the work it felt like I wasn't  
getting anywhere. Then a few weeks later, the results started showing. I needed new clothes!
Of course, this means I did lose some weight but not as much as you might think. I'm 5'4" and started at approximately 220 lbs. I never weighed myself at the time. I don't weigh myself now.  The last time I got on a scale I was 155 lbs which was a few months ago and I wear a size 4.  Although I may have to go up a size not because I've gained weight, but because my muscles are growing. Muscles are denser than fat which is why I go by clothing size and not what my scale says. My waist likes a size 2 and my legs prefer a 6 at the moment so we  "compromise" on a 4.  
I didn't change my diet too drastically. I stopped eating a lot of junk food. Switched to drinking water 95% of the time. I make my food pretty cleanly. I cook all the time, including baking for holidays and special events. I don't restrict myself too much at all. In fact, with the muscle gains, I need to increase my caloric intake.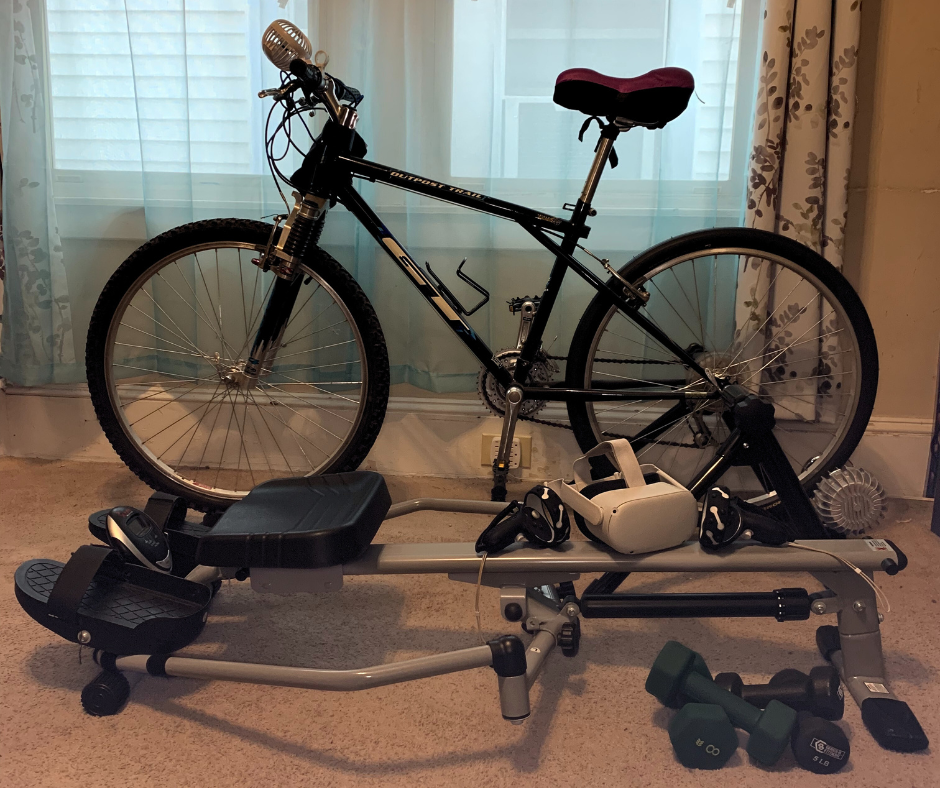 Let`s talk HOLOFIT
I asked our Facebook HOLOFIT VR Fitness Community for help writing my article. I hope the following answers your questions: 
My go-to workout options
It's tough to pick where and how I like to work out within Holofit. I guess my favorite HOLOworld would have to be Cyberpunk with Tropical a close second on my bike and Cambridge followed by Cyberpunk on my rower. 
I love Journey mode collecting all the trophies. Surprisingly, I've been enjoying HIIT CardioGoals a lot more too. I love doing the daily and monthly challenges!
Workout goals
My goals, in the beginning, were time-based trying to go 10,15, and 20 minutes at a time. Now I'm focused on distance, typically overall distance, rowing, and cycling combined since I  often do both during my workouts. The overall global leaderboard motivates me as well.  
My distance cycling can vary greatly. I like to cycle at least 2 miles as a warm-up before a  challenge or an endurance ride. As far as rowing, it all depends. Warm-ups before challenges are generally the same as when I'm on the bike. If I'm just wanting to row before I get on my bike I'll complete Cambridge. If I'm just rowing that day I'll try for 6 miles. It gets difficult after performing a bunch of squats during my pre-row/bike combos and lifting sessions since I row at a fast pace. 
First VS last HOLOFIT workout
When I started I was obsessed, completely addicted. I would work out 6 days a week and became severely upset and depressed if I missed a day. From my very first Holofit workout I  was hooked. This was exactly what I was looking for! 
My first real workout was on January 19, 2021:
Rowed 1.158 miles in 18:29  minutes in the Snowy Mountains. 
I currently try to work out 3 to 4 times a week, taking weekends, holidays, vacations, and sick days off. I put on my sports earbuds and have a list of various podcast episodes (fictional mostly supernatural or sci-fi) all ready to go and escape into  "me time". 
My last workout, as of this writing, was on April 7, 2023: 
Started with a Freestyle Combo on Easy in Tropical. 
Tip: During the skiing part, I squat deep with my legs closer together. This movement adds 25 squats for each skiing section between stations to the recorded count at the end. 
Using my rower, I completed the Daily challenge to explore 0.62 in Cyberpunk and continued rowing for 2.0 miles.

Finished a task in the Monthly challenge and won 1st place in the Antarctica race.
My total rowing equaled 3.0 miles in 18:03 minutes.  
Then I switched to my bike to complete the Monthly challenge:
Collected all the trophies in Antarctica, which took 4.0 miles in 17:52 minutes. 

Finished off with a 30-minute HIIT on medium in Antarctica – I scored a 96.6% after 8.5 miles in 35:14 minutes. 
The total of my cycling equaled 12.5 miles in 53:06  minutes. 
After all was said and done the combined totals, not including the Combo, equaled 15.5 miles in 1 hour 11:09 minutes. I find myself completing longer workouts more often lately.  
Tip: Typically, I add a quick 17-minute dumbbell session which includes 20 to 30 pushups and 15  different exercises working my shoulders, biceps, triceps, back, and abdominal muscles twice a  week adding a double lifting session once a week between the combo warm up and the excursions in Holofit.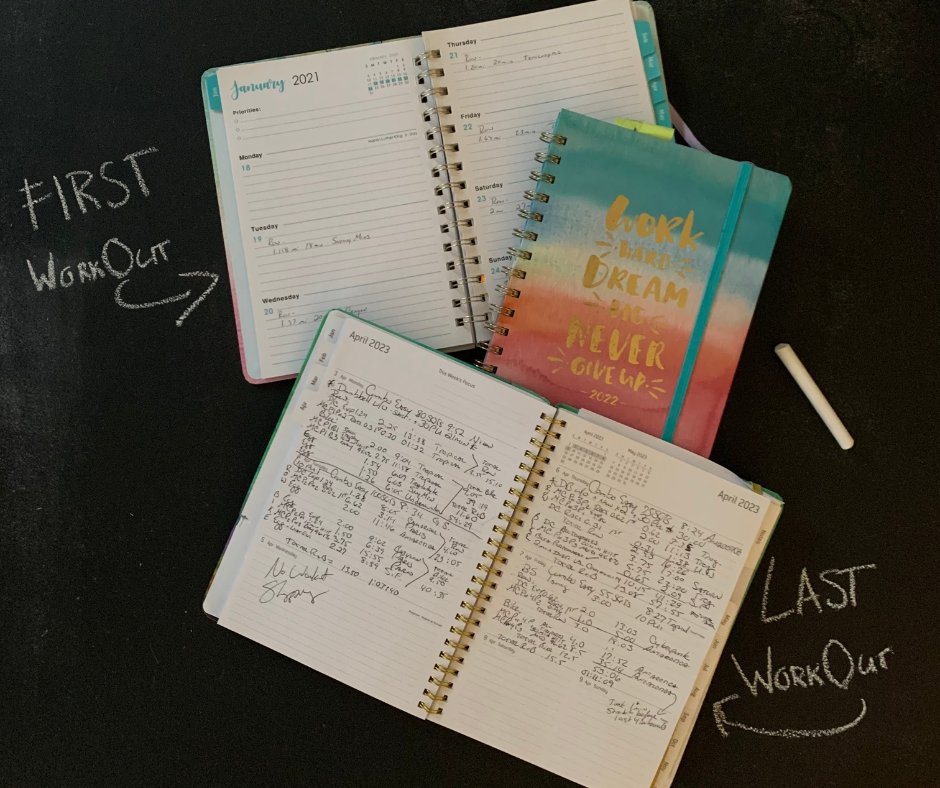 Meta Quest faves
I do use my Meta Quest 2 for apps other than Holofit, and play various games. 
I love puzzles so my first real games were The Room VR: A Dark Matter and Red Matter. For those that don't know, The Room has 4 games that come before this one available on iOS and Google Play I  believe. I've played them all. A Dark Matter is the conclusion of the story. Red Matter and the sequel Red Matter 2, which I just finished, are great immersive riddles. Moss and I Expect You To Die are top of my list as well. The Star Wars games have been devoured several times. 
For fitness-adjacent activities, I like Beat Saber and Thrill of the Fight. 
I have used PowerBeats in the past which is fine. I don't care for coaches or trainers to shout encouragement. It just shuts me down and I'll walk away. 
The phrases and arches within Holofit CardioGoals add to my internal dialog that continues to push me during every workout. I'm harder on myself than anyone else could be. To be honest, I don't want to punch myself, but an instructor shouting at me wouldn't be so lucky. 
With HOLOFIT, you'll get fit and never quit
Holofit makes the effort enjoyable. If I miss a trophy I go around again to make sure I grab it. 
Talk about motivation! I don't like leaving anything behind. 
The HOLOworlds are immersive. They provide a great escape from my mundane living room and daily stresses plus I  won't get caught in a thunderstorm or blizzard. There are several places to visit depending on my mood for the day. If I can't decide, Holofit can surprise me. 
The Monthly and Daily challenges also help if I just don't know what I should do that day.  
I do have some advice for those just starting their fitness journey:
Don't worry about how far or how fast
Just do something. Just a little bit. You'll gradually start doing more before you know it., 
Pick one thing to start with first, either diet or exercise. 
I used to work as administrative support on a progressive cardiac unit in our local hospital prior to my global chat technical support career. We always told people if you try to do it all at once you will most likely fail nine times out of ten. 
Break your goals up into smaller parts and achieve them one at a time. 
Before long you'll be on your way to reaching your goals. 
Most importantly, do it for yourself! 
You are worth it! Invest in yourself. It's the best and most rewarding investment you can make.  
I want to thank everyone at Holodia for changing my life, deeply and profoundly. The entire team is outstanding. You all have a place in my heart and always will. Bojana reached out to me in the very beginning and I will never forget it. 
I wish I lived closer so we could meet for lunch. Maybe someday we will. Sylvain, my internet friend, you are definitely on that list as well. 
I can't wait to see what the future holds for Holofit. It truly is Fitness Reinvented!
Ready to try HOLOFIT and transform your workouts like Kris?