HOLOFIT is one of the best VR fitness apps for the Meta Quest 2. We already know this. 
It makes fitness fun by immersing you in one of the 16 amazing HOLOworlds, lets you choose your game mode, and keeps you motivated on your fitness journey. 
To make the experience even better, we've developed a series of personalization options, to enable you to make Your HOLOFIT Your own. Keep reading to learn how you fine-tune it to fit your preferences. 
Customize your HOLOship in your HOLOdeck 
Did you know that over 58% of gym goers say that putting on gym clothes is one of their biggest motivators? Yep! And that's why, in addition to customizing your avatar's clothing, you can now customize your HOLOship, too! Double the motivation?! 
Now, bear in mind that this is only phase 1 of our new HOLOdeck which includes a reworked lobby, a series of useful shortcuts, and most importantly for today's post – new customizable HOLOships that you can take on your workouts. 
Currently available for fitness machine users, the HOLOships can be customized by clicking the platform to the right of the main menu. You can choose your vehicle model and the paint job (6 different options available), including three amazing skins.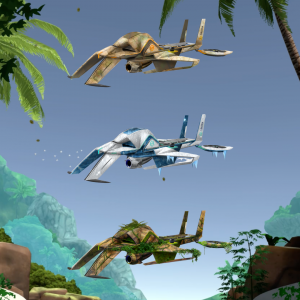 Or, if you prefer legacy vehicles, you can select them in the same menu. 
Personalize HOLOFIT functionalities in the Settings  
Find the gear icon on the HOLOFIT menu. Here, you can not only connect your fitness machine or switch to Freestyle mode, but also personalize your workouts:
In addition to fitness machine/Freestyle setup, Settings offer a variety of functionality customization options. 
🏴‍☠️ Language Options
HOLOFIT supports English, French, German, Spanish, Chinese, Japanese, and Korean, making it easier to navigate and understand the app.
🎮 Control Method
We offer three control options:
Controllers

– necessary for the Freestyle mode and Combo Workouts.

Gaze

– a great option for machine users that allows them to put their controllers down and solely use the machine.

Automatic

– you get the best of both worlds with the control method switching between controllers and gaze, depending on if you are holding the controllers or not.
🏆 Special Trophies
Our Special trophies are effort based and in order to collect them, you need to push harder and go faster. 
If you are not a fan of them, you can always enable/disable them in the General Settings.
Quick reminder – both regular and special trophies are only available in the Journey mode.
⏰ What's the time?
We know how easy it is to immerse in virtual reality and lose track of real-world time. 
Have no fear – by switching the clock option on and off, you'll never be late again!
✒️ Extra Motivation for CardioGoals Workouts
Those that thrive on feedback and love being pushed to do better and go slower/faster, will love the motivational messages for CardioGoals. You can switch these on in Settings! 
HOLOFIT Music Playlist
Workouts only get better with the right music: the type that you prefer. Our music button is placed on the left side of the in-game HUD (heads-up display) and is easily activated by gaze. 
In addition to environment music and sounds, you can choose to listen to one of our 5 regular playlists: Upbeat, Hip Hop, Fast & Furious, Relaxing, and Easygoing.
From time to time, you'll also get the opportunity to listen to our special, time-limited playlists, like Valentine's and Halloween!
Companion App
Our Companion App is where you can track your workouts, follow your progress, see how your rank on our leaderboards, and further customize your HOLOFIT experience. 
A number of options can be found in the Settings section, including:
Profile editing – change your username, CA photo, gender, country, and other data.

Your VR avatar – personalize your avatar.

Connect Health apps – keep track of your workouts with Apple Health, Google Fit, and Strava.
Ready to personalize your VR fitness experience? Head to HOLOFIT and give the new HOLOships a go! Have fun customizing your vehicles and tweaking all the settings to your liking.
Still haven't tried HOLOFIT?