Have you already tried any VR Fitness game on your Oculus Quest? It's amazing how virtual reality helps make exercising fun, easy, and motivating. 
In my routine, I use a couple of different ones. I've found that BeatSaber is great for warming up before HOLOFIT kicks my butt by giving me enough of a calorie-spending muscle-exhausting routine, and I've been doing this for some time. 
VR Fitness completely transforms fitness so it's no wonder that over the last two years there has been a huge increase in the number of VR Fitness apps, and although it means more competition for our company, it's a good thing – it means that what we've been doing works on a scale larger than just our community. 
HOLOFIT is our VR Fitness platform that works on all rowing machines, and any stationary bikes or elliptical machines with the additional cadence sensor – but, that's not all. 
We also offer HOLOFIT Freestyle for users without fitness machines. You can row, ski, cycle or run through bodyweight exercises, or even use our Combo Workouts program which combines all of these together with special exercises like boxing, squats, and more.
It's just what we intend to make with HOLOFIT: your fitness Alter Ego, all your fitness needs in one product. So far,  we're on the right track with many plans in our development roadmap.  
However, let me take you through what HOLOFIT offers right now and how it can transform your fitness. 
VR Fitness that does not require fitness machines
HOLOFIT Freestyle includes four sports – rowing, skiing, cycling, and running. 
These are simulated by core, arm, shoulder, back, glutes, and leg exercises that anyone can do at their home with no equipment. Here is how they work. 
VR Rowing on Oculus Quest
Sit on the floor, back 90 degrees to the ground, and legs straight. Get your feet stuck under the sofa or something similar, hold the Quest controllers in your hands, bring your arms to the side of your body, and make rowing motions. 
Keep your core strong and engaged. The farther back that you lean, the more core muscles you'll engage! 
If you do this regularly, at least twice a week, I promise you'll have a six-pack in 4-week time!
VR Skiing on Oculus Quest
Start by standing with your feet shoulder-width apart while holding your arms at eye-level and bent at 90°. Next, you want to swing your arms downwards and back, while squatting. Don't squat too deep and tighten your core. Finally, swing your arms back to the first position while standing up. Keep squatting and swinging your arms vigorously.
VR Cycling on Oculus Quest
This is, somewhat ironically, a great arm workout. Stand up straight, keep your core strong and engaged, and start "cycling" with your arms. It might sound easy, but trust us, after one minute of doing this, you won't think so anymore!
There are also two ways you can do circular arm movements: 
As regular arm bicycle movements with your arms being on the side, that will mostly focus on your shoulders, chest and triceps muscles, or

As boxing speed bag movements, with your forearms next to each other at face heights, that will focus on your forearms, triceps, and shoulders.
After four weeks you'll have slimmer arms and defined arm and shoulder muscles.
VR Running on Oculus Quest
Stand up straight, hold the controllers in your hands, keep your core engaged. Start running in the same spot. Move your arms as if you were really running, and jog on the balls of your feet. This will activate your arm and shoulder muscles, as well as your calves. 
You can also keep your feet on the ground, making more energetic arm movements while bending your knees slightly. This way you'll put more pressure on your quads and stomach muscles.
This exercise can help you burn around 200 calories per 30 minutes.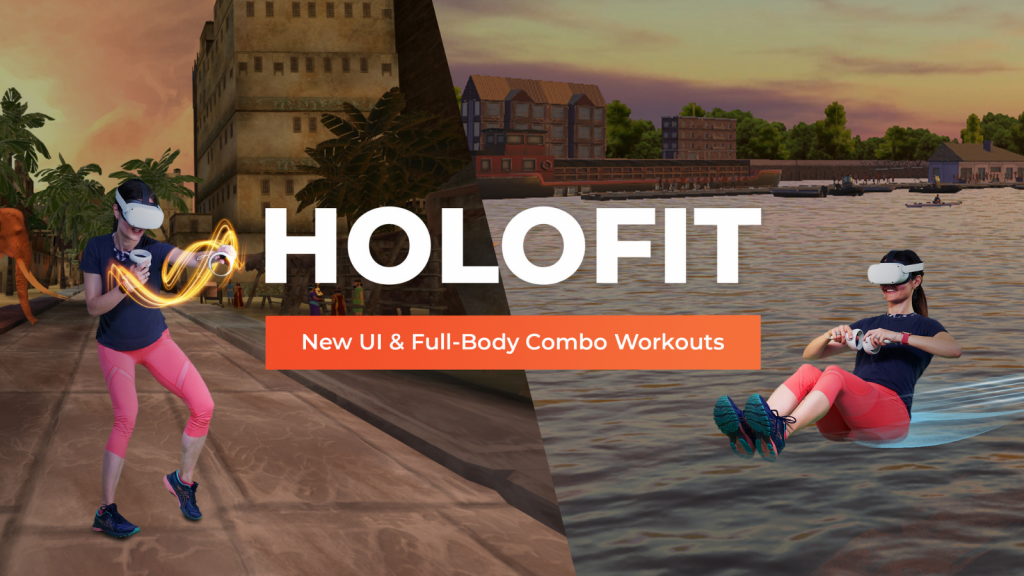 Combo Workouts
Combo Workouts combine skiing, running, and cycling into one workout. You will start with one of those three sports, move through one of our amazing virtual worlds, come to a platform where you'll be tasked with exercises such as boxing or squats, after which you'll continue your journey in another one of the sports.
We've developed Combo Workouts to engage your whole body, including your legs which have been traditionally left out of VR fitness.
Now, while these exercises will help make you stronger and fitter, the intensity skyrockets when you use HOLOFIT on actual rowing machines, bikes, or ellipticals.
Increasing the intensity of your VR fitness workouts with Fitness machines
If you'd like to opt for the highest intensity VR workout, look no further than HOLOFIT VR Fitness.
HOLOFIT adds VR to boring and strenuous cardio fitness machines and uses beautiful VR content and gamification to transform this experience into something you'll always look forward to.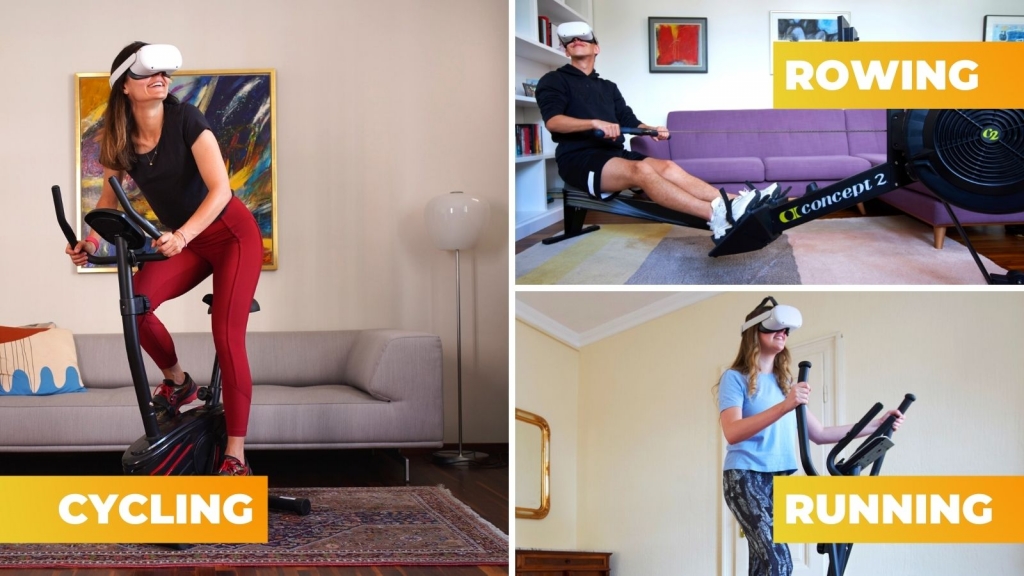 Add a cadence sensor to any stationary bike to turn it into a VR bike
If you'd like to step up the intensity of your VR Fitness workouts on Oculus Quest, VR Cycling might be the most affordable option for you – if you don't already own a fitness machine.  
You could get a new or used stationary bike starting at $100, and a $35 cadence sensor to complete its transformation into a full-fledged VR bike.
HOLOFIT will simply connect to the bike's sensor and transfer your workout data into virtual reality. Your movements on the bike will be perfectly synced as you cycle around one of many HOLOWorlds available on HOLOFIT. 
Cycling is a great low-impact cardiovascular exercise for your legs and core. 
Cadence sensor enables VR elliptical workouts on wheel-based ellipticals
If you'd prefer to run in virtual reality, you could think about getting a wheel-based elliptical as well. You can find a great one in a similar price range of $100 – 300 and then add to it the same $35 cadence sensor. 
Your VR avatar will adapt to the elliptical so you'll be running through our HOLOWorlds. 
Ellipticals are a great weight loss tool and VR on top of them serves as a great motivational tool that pushes you to always run further and come back to it to progress to another level. 
VR Rowing software that turns any rower into an interactive rowing machine
If you're ready to invest a bit more into your workouts, a rowing machine would do wonders. 
Indoor rowing is a fantastic tool that enables you to activate 80% of your body's muscles while staying low-impact to your joints. You'll be working your legs, core, back, shoulder, and arm muscles all in one workout. 
FMTS-Bluetooth rowing machines such as the Concept 2 PM5, WaterRower with SmartRow, StairMaster HIIT Rower, TechnoGym SkillRow, and Domyos 500 Rower, will connect to HOLOFIT directly over Bluetooth and transfer to it all your workout data.
If you have a simple rower, then you can take advantage of the HOLOFIT head-tracking feature which will track your back-and-forth headset movement to place you in VR. Either way, the fun is guaranteed!
Try our interactive shopping guide to find out exactly what you need to make HOLOFIT work with your fitness machine.
Why HOLOFIT VR Fitness works as a great motivational tool 
In itself, VR Fitness has been proven to provide various benefits – less pain, longer workouts, and quicker, more consistent progress due to heightened motivation. That's just what we've based HOLOFIT on. 
HOLOFIT immerses you in beautiful VR environments to distract from the pain, and relies on different gamification methods to keep your motivation high. 
There are currently 13 VR environments, some of which include a tropical jungle, the ancient Babylon, Antarctica, Paris, and even sci-fi environments such as Saturn or Underwater. You can work out in these environments in one of our 6 workout modes – Explore, Zen Mode, Time Attack, Cardio Goals, Race Mode, or Online Multiplayer.
All your results will be saved on your Companion app where you can follow your progress, see where you stand on our leaderboard, and compare your results with other HOLOFIT members. 
Speaking of our community, feel free to join our Facebook group to see how HOLOFIT is changing our members' lives… You can catch me there anytime!