Ready to transform your workouts and explore the wonders of VR Fitness?
HOLOFIT is your ultimate fitness companion, which you can use with any rowing machine, bicycle, or elliptical, and even without fitness machines for full-body workouts!
Here's how to get started:
What you need for HOLOFIT
Currently, the Oculus Quest 2 has the best quality/price ratio on the market. It starts at $299, and you can get it on the official Oculus website or source it in a store locally.
Choose between the monthly (9.9€) plan, and the (108€) yearly plan and start your 7-day free trial. Cancel anytime.
Rowing machine, bicycle or elliptical (Optional) 
Any rowing machine works with HOLOFIT in Bluetooth or non-Bluetooth mode, while a simple cadence sensor enables any bicycle or elliptical to connect to HOLOFIT. 
Workout equipment
HOLOFIT without a fitness machine
If you own one of the Oculus Quest headsets, you can use the HOLOFIT Freestyle mode without a fitness machine. 
In HOLOFIT Freestyle, you use the Quest controllers and do a series of bodyweight workouts to simulate rowing, running, skiing or cycling. 
Make sure to check out our Freestyle Combo Workouts: We`ve combined 3 Freestyle sports – running, cycling, and skiing – with a series of bodyweight exercises. For now, bodyweight exercises include boxing, squats, wide squats, and log cutting, combined with a relaxing breathing exercise.
HOLOFIT on rowers, bikes and ellipticals 
HOLOFIT works with all bikes, ellipticals and rowing machines.
Bikes and ellipticals with FTMS Bluetooth connect directly, while others need an additional cadence sensor. You can find out all about elliptical running and cycling in HOLOFIT here.
Cadence sensors enable compatibility for bikes and wheel-based ellipticals ONLY. Cadence sensors do not work with rowing machines.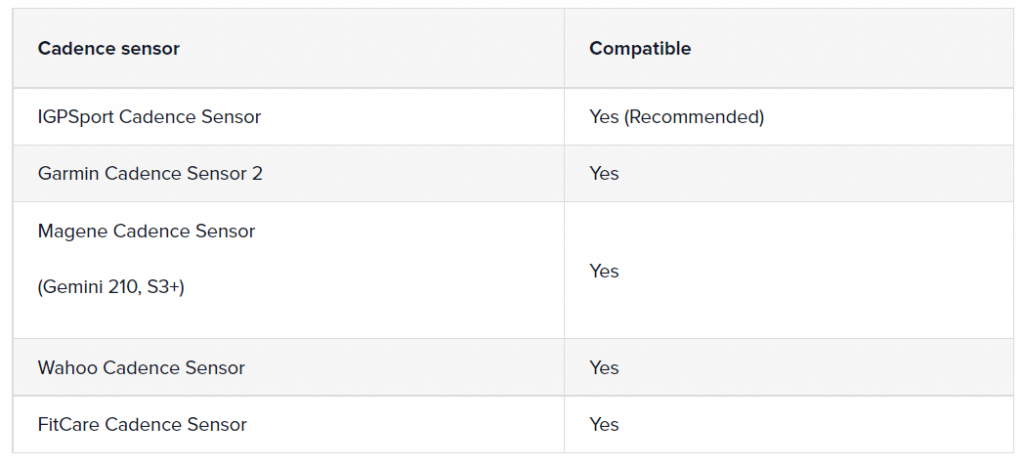 Rowing machines with FTMS Bluetooth connect directly. Any other rower works with HOLOFIT in the simple rower mode. You can find out all about rowing in HOLOFIT here.
Our complete list of compatible hardware can be found here.
How to get started
Oculus Quest Store
You can download HOLOFIT from the Oculus Quest Store, directly from your headset or from the Oculus website.
Right off the bat, you can enjoy our free demo mode. 
Demo version of HOLOFIT is free but limited in content and workout duration. 
To gain full access to HOLOFIT, start your monthly/yearly HOLOFIT plan with a 7-day free trial. It's no risk, you can cancel anytime.  
With the HOLOFIT membership, you gain access to the current HOLOFIT content offer, as well as all future developments, content and feature releases and updates. New HOLOFIT updates are released every month.
Membership price
Monthly plan – $11.99/month
Yearly plan – $104.99/y, which means your membership comes to $8.75/m. Save $38.89 with the yearly plan!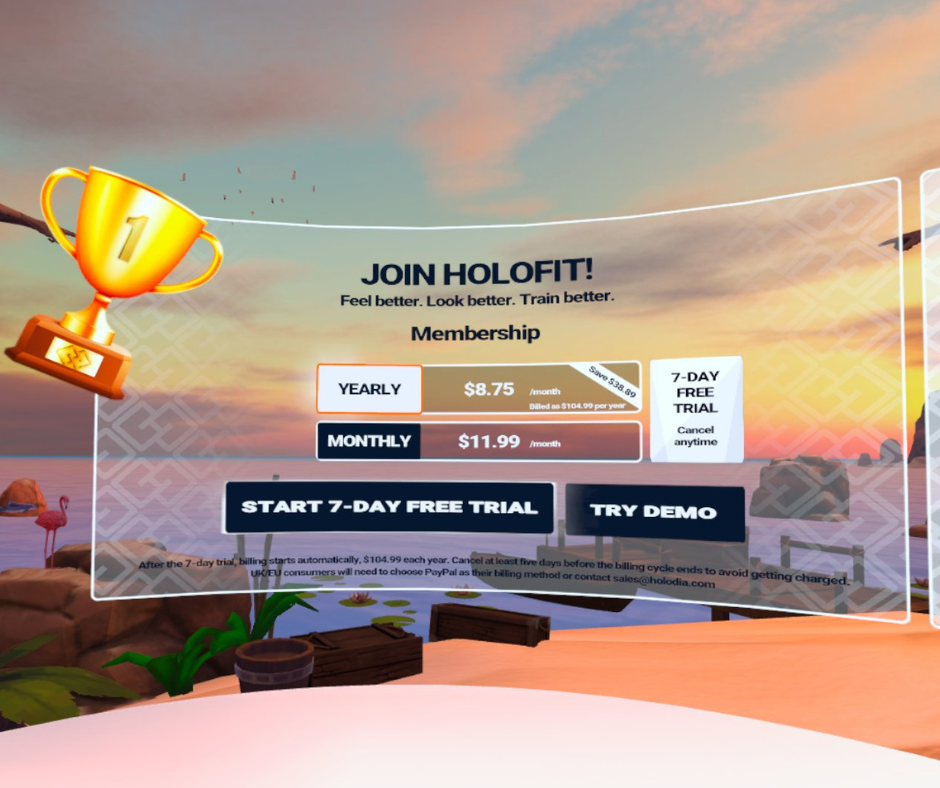 Have any additional questions or need help registering? Head to our FAQ page!
If you are still having trouble, or need more information, don`t hesitate to reach out to our Support at support@holodia.com.
Download the HOLOFIT Companion App
Our Companion App is where you can track your workouts, follow your progress, keep yourself accountable with streaks, meet new friends, and see how your rank on our global leader board, country-specific leaderboard, and sport-specific leaderboard.  
It's the perfect motivational tool for those who like statistics and for those who like some friendly competition.
Find the HOLOFIT companion app on

Google Play

or the

App Store

and download it.

Log in with the same credentials you used for your MyHolofit account when you first subscribed.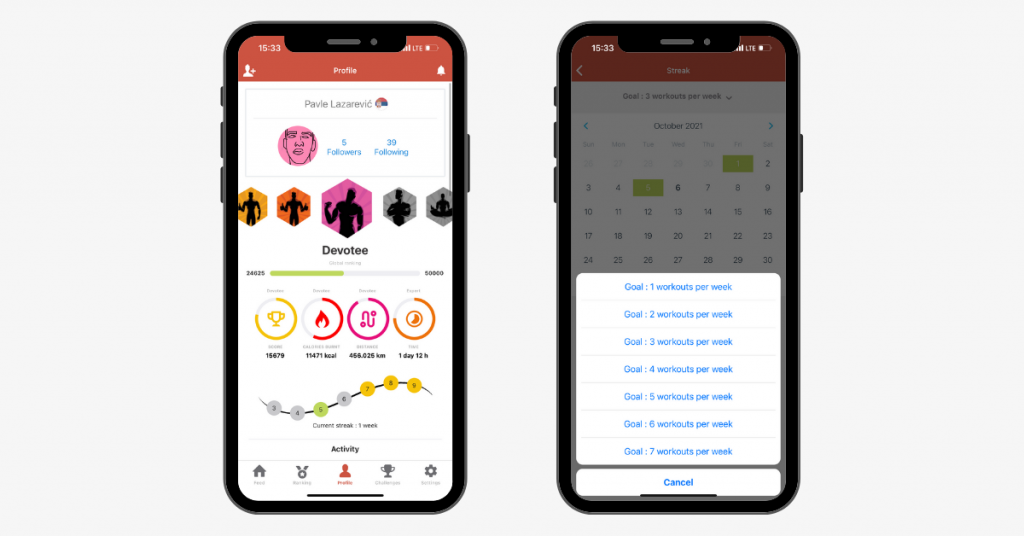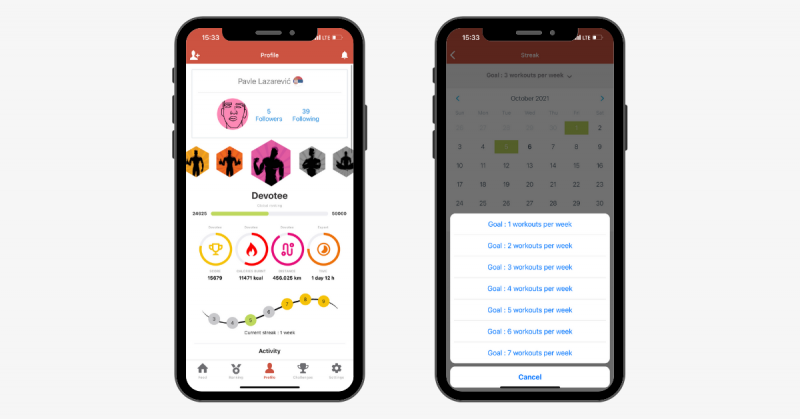 What HOLOFIT has to offer
Original content
15 amazing virtual worlds await your arrival: 
real cities like

Paris

or

San Francisco

, 

historical places like

Babylon

, 

fantasy worlds like

Saturn

or the mysterious

Troglodyte

, 

pleasant natural surroundings like

Tropical

or

Snowy Mountains

, 

worlds based on real sporting events such as

Cambridge

or the

Grand Sablon

desert, 

and our newest addition, the futuristic

Cyberpunk world of the HOLOFIT Universe. 
Immerse yourself in these worlds, try to escape the exploding turtles, collect the various hidden trophies, and forget you're working out. You'll be getting great results in no time!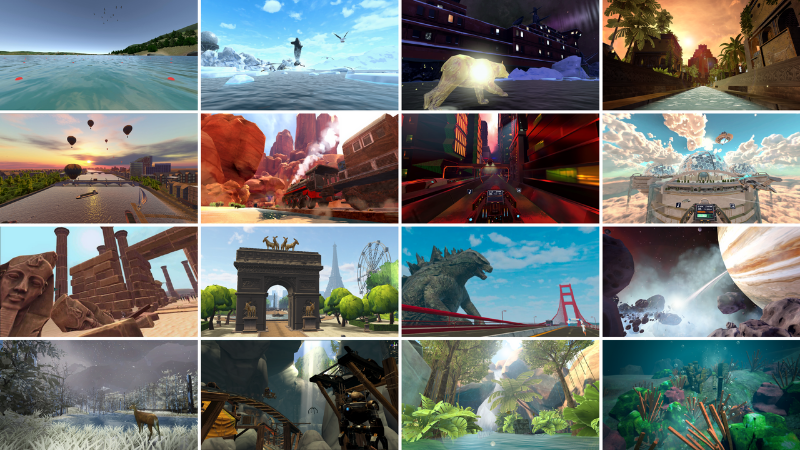 Ultimate fitness companion
6 workouts modes: Journey, Zen Mode, CardioGoals, Performance, Race Mode, and Online Multiplayer. 
Have fun at your own pace and collect hidden trophies with Journey, follow guided cardio training programs including HIIT with CardioGoals, or race the ghost of your past best performances, and keep coming back to your workouts.
Motivation
If you're having trouble sticking to your fitness routine, you have to try our Challenges!
Daily Challenge
Every day, you'll receive two new daily challenges, covering a variety of HOLOFIT workout modes and environments. For each daily challenge you complete, you'll get bonus points to help you rank higher.
Monthly Challenge
Four phases with three workouts each: you'll be faced with 12 challenging tasks that will take you through a variety of workouts, ranging from the Journey mode to the notorious 15-min HIIT. 
It's your personal coach, so you have nothing to think about: just pick up your headset, head into HOLOFIT, and try to complete your next task in the challenge.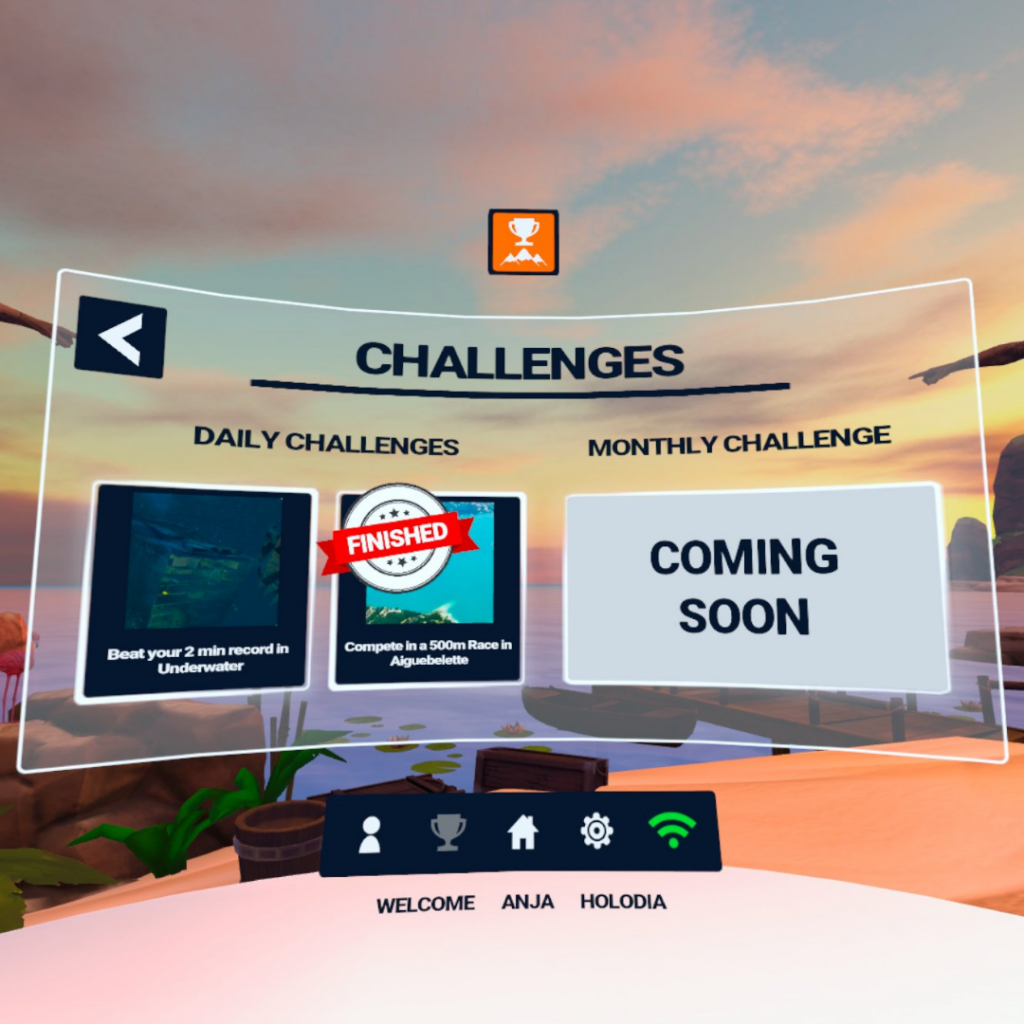 Race friends all over the world
Some things are simply better with friends, so why not race other HOLOFITTERS, wherever around the world they may be? Fun is guaranteed, but getting to that first place won't be easy. We're rooting for you!
Online Community
To get to know other HOLOFITTERS, get motivated, arrange workouts and discuss anything fitness related – join our online Community! It's the place to share your experience, read about other users' experiences and also serves as a fantastic accountability hub.
Are you ready to make 2022 the year you reach your fitness goals?